Your Green Life: "Green Furniture" - msnbc.com
Duluth, MN Epicurean is a well known successful business in Duluth that makes cutting boards out of recycled material. But what some people don't know is Epicurean has a sister company called LOLL. They make patio furniture and share a similar business goal.
Owner of LOLL, Greg Benson tells me their business goal, "To make well designed, high quality, made in the USA product out of recycling plastic. We sell our product all over the country and internationally as well."
Immediately when you walk into LOLL's office you know that creative and innovate ideas are being born every day. But when starting this business Greg Benson knew it was about more than just creating a green product.
"I think a demand for made in the USA products, in particular and regardless of whether recycled or green and I definitely think we had some traction with that." Says Benson
LOLL's outdoor furniture is strong enough to brave the elements, while retaining their unique designs and comfort. But what exactly makes this a green product?
Benson explains, "The material we use is high density polyethylene, number two plastic and it's primarily from milk jugs."
Milk jugs are used because there is no coloring in the plastic, which makes it easy to reuse. What makes these green chairs so special is there are no "fillers", like wood chips and other plastics, in the making of the chairs.
"There's about eight milk jugs per pound, and one of our Adirondack chairs weighs 50 pounds, so 400 milk jugs. We estimate that we've reclaimed about 18 million milk jugs since we started doing this." Benson said.
In 2010, about 13 million tons of plastic waste was produced. Of that only 8 percent was recovered and recycled.
Meteorologist Adam Lorch
Source: www.msnbc.msn.comBlackburn art lecturer's painting to be shown at the Royal Academy - Blackburn Citizen
Blackburn art lecturer's painting to be shown at the Royal Academy
3:20pm Thursday 14th June 2012 in Blackburn
By Nafeesa Shan, Reporter
AN art lecturer has pulled off a master-stroke by securing a place at a coveted exhibition.
Working artist and Blackburn College lecturer Richard Cross has landed a spot in the world's largest contemporary art show the Royal Academy Summer Exhibition.
Richard's oil painting Thin Red Line is now going to be one of the pieces that have made it into the exhibition, which has displayed works from famous artists such as Tracey Emin.
His painting is part of a series of landscapes based on the area of Lancashire where he lives and works. More than 11,000 artists vied for a place at the exhibition.
Richard's work will be hung in Gallery V, which focuses particularly on landscape pieces.
Richard, from Clitheroe, has a studio in Blackburn town centre and has previously had works displayed in the Royal Overseas League, Laing Art Competition, Northern Young Contemporaries, and exhibitions at Christies and the Royal Festival Hall in London.
A teacher of fine Art and Drawing at the College for over 20 years, he said: "I'm thrilled to be included the Royal Academy Summer Exhibition.
"The subject of this painting is the place I regularly go to walk my dog and is just outside of Clitheroe.
"The 'Thin Red Line' refers to the rust coloured side of the Manchester to Clitheroe railway line that cuts across the picture in front of Longridge Fell and Kemple End in the background.
"I work full-time therefore I'm not under any particular pressure to sell work, I only paint places I'm very familiar with and that I encounter as part of my everyday routine. If people like them that's a bonus."
Richard's work has also appeared in the '500 Portraits' book which celebrated 25 years of the National Portrait Gallery's annual BP Portrait Award.
The portrait of himself was one of 50 selected from over 3,000 entries to appear in the book.
Principal, Ian Clinton, said: "This is a very significant achievement for Richard and the college.
"It highlights the very high calibre of our tutors."
The Summer Exhibition is open until August 12.
Source: www.blackburncitizen.co.ukOld nappies turned into furniture under new recycling scheme - BBC News
14 June 2012
Last updated at
07:05 ET
Used nappies will be turned into garden furniture, roof tiles and railway sleepers under a new recycling scheme being trialled in Scotland.
Each year some 160 million nappies are sent to Scottish rubbish dumps.
But four councils are to trial a kerbside collection scheme for 36,000 homes across Fife, Stirling, Perth and Kinross and North Lanarkshire.
The pilot will run for an initial six months to establish whether it can be rolled out nationwide in the future.
As well as disposable nappies, incontinence products and other related items - like wet wipes, nappy sacks and cotton wool - will also be suitable for the recycling collection.
Jenny Sim of Zero Waste Scotland said babies used an average of 4.16 nappies per day, with more than 90% using disposables.
Reusable nappies
She added: "The average child in Scotland goes through 4,000 nappies before they're potty trained, which is an awful lot going to landfill.
"The local authorities in the pilot areas will be collecting the waste, they'll send it to a big treatment unit where the waste is heated up to 125 degrees to sterilise it and clean it.
"The human waste is put to sewage, and the plastics and celluloids are then converted into useable products such as park benches, road signage, railway sleepers and decking.
"It does make it so much easier for parents in these trial areas to do their bit and help the environment and help recycling in Scotland."
Sheila Sangster, who has been a childminder in Stirling for 27 years, said it was "frightening" to think how many thousands of nappies she had sent to landfill over that period.
Mrs Sangster said she believed the recycling scheme could change the way people viewed the debate between disposable and reusable nappies.
'Step forward'
"To use disposable nappies is so much more convenient for mums, so to have a scheme like this where they know that their nappies are not just going to lie in a landfill for hundreds of years - I think people will take up the opportunity to recycle them.
"You've got all these (recycling) boxes already, so one more is not going to make any difference.
"Also, it's going to be picked up weekly instead of lying in your bin for two weeks. As you can imagine, in the summertime that's not pleasant."
Environment Secretary Richard Lochhead said: "Disposable nappies, although convenient, do have a huge impact on the environment with a staggering 450,000 ending up in landfill each day in Scotland.
"This innovative new scheme is a fantastic step forward for recycling and makes it easier for parents to do their bit for the environment.
"It's great that new technologies allow us to recycle even more materials. In this way, we can reuse our waste and treat it as a valuable resource with the potential to boost our economy."
Source: www.bbc.co.ukCardi's Furniture is Pleased to Introduce The Dr. Breus Bed™ - YAHOO!
Cardi's Furniture Stores in MA and RI Announce the Addition of the Dr.Breus Bed to Their Product Line
Swansea, MA (PRWEB) June 14, 2012
Cardi's, the legendary Rhode Island and
Massachusetts furniture
and mattress provider, is proud to announce the addition of the unique and innovative Dr.
Breus Bed
to its line of top-quality furniture and bedding.
Developed by sleep specialist Dr. Michael Breus, The Dr. Breus Bed™ has been specially designed to give you a perfect night of sleep, every time. The Dr. Breus Bed™ utilizes an exclusive proprietary layering system to achieve unbeatable comfort that leads to an ideal night of sleep. Up to 13 separate layers of pure Talalay latex and luxurious polyfoams are installed by hand into the beds by expert artisans during the sophisticated manufacturing process.
These exceptional beds are now available at all Cardi's Mattresses and Cardi's Furniture locations.
The unique system designed by Dr. Breus relies on his ingenious "Sleep Assessment" feature, which is based on his four tenets of better sleep: thermo-neutrality, a feeling of zero gravity that comes from superior pressure relief, complete relaxation and tranquil sleep that results from reduced movement.
In addition to The Dr. Breus Bed™, prospective buyers can experiment with the SleepMatch™ sleep assessment system to help you find the perfect bed for your body type. Thousands of volunteers of various body types assisted in the creation of this special SleepMatch™ system. Entering your SleepMatch™ information on the Cardi's website will help Dr. Breus guide you to the right mattress for you: http://www.cardis.com/main/bodymatch.php
Dr. Breus is a sleep expert, best-selling author, clinical psychologist, Diplomat of the American Board of Sleep Medicine and Fellow of the American Academy of Sleep Medicine. He has appeared on the Oprah Winfrey Show, the Dr. Oz Show, the Today Show and many other national TV programs and publications. He is a widely recognized leader in the field of sleep study.
The premier furniture and mattress store in MA and RI, Cardi's traces the roots of its operation back to the year 1901 in the town of Itri, Italy, with the first Cardi's in America opening as a general store in 1928. After undergoing several stages of expansion through the years, Cardi's now has multiple furniture, mattress, clearance and design locations throughout RI and MA, including Cape Cod. With an emphasis on flawless customer service, the Cardi's family is proud to guarantee the best furniture and mattress shopping experience in the business.
About Cardi's Furniture:

As New England's leading home-grown furniture provider, Cardi's has been devoted to providing premium home furnishing for families across Southern New England for over 80 years. Cardi brothers Ron, Pete and Nick developed their famous "NiRoPe" philosophy around guaranteeing rock-bottom prices, sky-high quality and limitless customer service.
Cardi's Furniture
Cardi's Furniture
(508) 379-7510
Email Information
Source: news.yahoo.comSir Winston Churchill painting to fetch £750,000 - Daily Telegraph
David Coombs, the official authority on Churchill's art, will include it in his revised edition of His Life and His Paintings.
Mr Coombs said: "It's really beautiful, I was thrilled to be shown it."
"The subject adds to its special interest. A Royal Horticultural Society source suggests that they are Cattleyas with a Miltonia.
"Such complex and delicate forms would be difficult to tackle even for a professionally trained painter and it reveals not only his liking for the flowers, but his characteristic determination to paint them whatever the difficulties."
Churchill once spoke of being rescued by the "muse of painting" after he sank into depression following his resignation as First Lord of the Admiralty after the disastrous Dardanelles landing in the First World War.
Mr Coombs said: "The fact that Margot Sandys saw the present painting in 1936, confirms its date.
"The 1930s were Churchill's 'wilderness years' when he was out of power but also, perhaps not entirely coincidentally, a period of abundant painting."
He added that, at that time, Churchill came to know the celebrated artist Sir William Nicholson who, Churchill once said, taught him most about painting.
The 46 x 38cm (18 x 15in) orchids painting will be unveiled by the MacConnal-Mason Gallery at Masterpiece, an art fair staged from 28 June to 4 July at the Royal Hospital Chelsea, London. Bids for the painting will be taken during the exhibition.
Source: www.telegraph.co.ukVienna museum settles in looted painting case - Reuters
VIENNA (Reuters) - A Vienna museum has reached a settlement with remaining heirs in the case of an Austrian woman whose Egon Schiele painting "Houses by the Sea" was confiscated by the Nazis on the eve of World War Two.
Last year, the Leopold Museum said it had agreed to pay $5 million in compensation to the sole granddaughter of Jenny Steiner, but that negotiations with two other sets of heirs continued.
"Following the settlement with the only living granddaughter of Jenny Steiner in May 2011, strenuous efforts have now led to another settlement with the heirs of Daisy Hellmann and Klara Mertens," the museum said in a statement on Thursday.
The board of directors of the Leopold Museum Private Foundation described it as a "long and hard-fought solution," the statement added. It did not give financial details.
The spat was one of at least two restitution cases the Leopold Museum had hoped to settle with funds raised by selling another Schiele painting, "Houses with Colourful Laundry, Suburb II", which fetched a record 24.7 million pounds ($38.5 million)at an auction in mid-2011.
The museum houses the world's largest collection of works by Schiele, one of the major Austrian artists of the 20th century.
"The painting 'Houses by the Sea' will as of now be accessible to the public as an integral part of the largest and most important Schiele collection in the world," it said.
Steiner, a Jewish silk factory owner and art collector, fled in 1938 when Nazi Germany annexed Austria and died in New York in 1958. Collector Josefine Ernst bought the painting at an auction in 1941. Her son sold it to Rudolf Leopold in 1955 to complement his collection of works by Schiele, the museum said.
Proceeds from the Leopold's sale of a Schiele cityscape at a Sotheby's auction in June last year were to be used to help pay for the settlement of another long-running dispute over a 1912 painting of Schiele's lover Walburga Neuzil.
A Manhattan court upheld claims that work had been seized by the Nazis, prompting the museum to pay $19 million in a settlement to keep it.
($1 = 0.6418 British pounds)
(Reporting by Fredrik Dahl, editing by Paul Casciato)
Source: www.reuters.comWinston Churchill painting from Chartwell set to raise £750,000 - Kent News
Winston Churchill
Thursday, June 14, 2012
8:47 AM
Wartime leader's orchid painting to go on display in London
A painting by Winston Churchill that used to hang at his home in Chartwell, is going under the hammer at auction and expected to raise up to £750,000.
The former Prime Minister, who led Britain to victory during the Second World War, was an avid artist and his work has long been praised by experts.
Now Still Life With Orchids is set to underline his talents when it comes up for auction during an art fair in London.
Experts describe the work as "technically accomplished" and will be available to view before being sold.
The painting by the wartime leader had been owned by Margot Sandys. She was the wife of Churchill's daughter's father-in-law. The paiting was passed to her by Churchill in 1936.
She had originally seen the painting at Chartwell - the sprawling country house in west Kent where Churchill lived and which is now a National Trust property.
The painting will go on show at the MacConnal-Mason Gallery at Masterpiece, an art fair staged from June 28 to July 4 at the Royal Hospital Chelsea. Bids will be taken during the fair.
Source: www.kentnews.co.ukThe Process and the Pea: Exploring the Handmade Craft of Oil Painting -- Part One - Huffington Post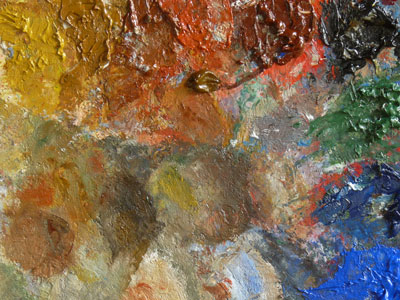 Tracing a thought back to its origin is always intriguing, especially if it turns out to be life changing. Almost 30 years ago, while walking away from a large museum --released from, yet still very much under its spell -- I had, for better or worse, what turned out to be such a thought. Dimly, it occurred me that, while modern paintings looked better in reproduction, older paintings somehow looked better in person. Probably felt would be a more accurate term. I was under 30, still struggling with an education that was less complete or sophisticated than I thought, and, slowly becoming aware of the limitations of the 20th century art I had grown up with, beginning to become aware of painting in larger historical terms. Often modern paintings looked a little dingy or shopworn in the flesh, or had, in more extreme cases, obviously darkened or yellowed. The best of older painting offered something beyond this, a kind of seamless fusion of form and content, of craft and intention, that was satisfying at a deeper level than the more topical, intellectual, or edgy qualities that dominated modern painting. Older painting also had a significantly more evolved sense of the surface, of what could happen optically and technically within a few millimeters of paint. I wanted to get as close to them as possible, the museum guard's nightmare. This is not to idealize older painting, which has had its fair share of facile yet vacuous moments: encountering a Boucher for the first time, for example, was disconcerting compared to the stark sincerity of the Quattrocento, and it was helpful to discover, even decades later, how much Boucher had annoyed Diderot. On the other hand, it never seemed appropriate to condemn modern painting, just to realize that it was varied and complex as well. The original spirit of freedom and spontaneity, freshness and candor, obviously still has much to offer. Yet, it often seemed that something was missing, both technically and at that recurring deeper level. Older painting had an extra dimension in a more developed craft, another in its sense of strength in reserve; of being painted from a different level of purpose and conviction.
Being part of a generation that grew up with the chosen intensity of modern art, the idea of images crafted for a relationship longer than fifteen seconds required consideration. It suggested a slower version of time, and, by extension, a more examined kind of life. While older paintings could certainly be lively, they were not always shouting, and the fact that this was not felt to be prerequisite was, personally, a relief. Admittedly, I had always looked to art for something beyond visual or intellectual entertainment. I wondered if, similar to the progression defined by Orwell in Animal Farm, modern art had developed into a form of aesthetic tyranny all too similar to that from which it had originally rebelled. A sense that painting had been, and therefore could be, about much more than I had previously realized, began to develop. It was fascinating that older painters knew so much more than I did, that they were speaking both a visual and technical language I simply could not comprehend. Even more thought provoking, this knowledge could be seen in action without the slightest understanding of the craft that enabled the methods. This was very interesting.
These thoughts, developing over the next few years or so as I taught myself the rudiments of traditional oil painting, are not presented for their brilliance or originality, but to illustrate the recurring proximity of naivete and personal truth. While I knew next to nothing about what older painting entailed technically, the equation of relevance had already established itself. Old painting and new painting each had specific general identities. Could the meaningful aspects of both somehow be brought together, blended in a way that might maintain the intriguing qualities of each? Blissfully unaware of the long term consequences, I began to wonder about how these different approaches might be reconciled in a functional synthesis.
Fifteen years later, this thought had crystallized into a need to develop the craft beyond the modern model. This had begun to seem like a flat earth version of the craft. Where was the original globe? It quickly became clear that it was impossible to achieve anything remotely like this with the accepted 20th century materials I knew: the look was altogether too facile. Did modern paint somehow have the "wrong" qualities to begin with? In terms of color, the crucial element of chromatic dignity was also firmly out of reach. Vivid modern colours seemed glib or superficial; how to access colour with more sonority, gravity, depth of feeling? On the one hand, this was frustrating, but on the other hand, the puzzle remained tremendously interesting: it could be seen, but not unraveled. I had always been drawn to learning new things, but here was something that, apparently, could not be learned. The door was not only closed, it was bolted, locked, and guarded by Cerberus. Yet, how could something this fundamental to older painting practice have become so obscured? Or, in fact -- that fateful word -- lost? The current books said one thing technically, but older painters had clearly done something very different. What was going on here? Why was older practice enthroned in art history, but deprecated in print by current painting professors? Having always found the superiority of modernity dubious in application, this conundrum proved too intriguing to ignore.
Thus began a long journey into the labyrinth of how older painting technique might be accessed and, in some way, reconstructed. Thankfully I had no idea how many painters had been fascinated, even ensnared, by this same puzzle, or the legendary difficulties it entailed.
To be continued...
Source: www.huffingtonpost.com