Furniture retailer shares fall on La-Z-Boy results - CBS News
NEW YORK Share of a number of furniture makers plunged in trading Wednesday after La-Z-Boy Inc. reported disappointing sales.
The company said Tuesday that its fiscal fourth-quarter sales fell to $327.4 million from $338.9 million in the same period last year. That was due in part to an extra week in the prior year but investors saw bigger issues.
Furniture retailers have struggled in the sluggish economy. Consumers tend to curb big-ticket purchases in tough times. Many home owners and renters are less inclined to buy new furniture when they are worried about their jobs.
"The tepid economy currently and likely negative focus on the upcoming election will likely keep consumers at bay near term," Stifel Nicolaus analyst John Baugh said in a research note Wednesday.
Underlining those points, Ethan Allen Interiors Inc. executives said at an investors' conference that traffic was slowing in their stores. The company's shares fell $2.51, or 11.3 percent, to $19.70 in afternoon trading.
La-Z-Boy shares fell $1.70, nearly 13 percent, to $11.43.
Shares of other furniture retailer's shares dropped as well. Haverty Furniture Companies Inc. shares fell 48 cents, or 4.1 percent, to $11.30, and Stanley Furniture Co. Inc.'s shares fell 4 cents to $3.91.
Source: www.cbsnews.comBentinck to take its furniture to public - nebusiness.co.uk Source: www.nebusiness.co.ukEdmonton Economic Development Corporation: Edmonton Students Show Off Art to Visitors, Residents - msnbc.com
EDMONTON, ALBERTA — Join students as their artwork is unveiled at the Shaw Conference Centre's pARTnership gallery, which is the 18th stop in The Works Art and Design Festival's downtown Edmonton tour.
  Date and time: Monday, June 25 - 5 pm                                        Location: Shaw Conference Centre Hall D lobby (pedway level)                 Address: 9797 Jasper Avenue                                                   
A joint initiative with Edmonton Public Schools, the gallery contains art curated by school board experts and reinforces the centre's commitment to bring art to public spaces, seen by half-a-million guests annually in a high-traffic corridor. Over 1,100 pieces of student art were submitted by 35 schools. A committee of teachers with art experience judged the submissions and selected approximately 243 pieces of artwork for all community and partnership exhibitions in Edmonton. Twenty-seven pieces from K-12 students are in the pARTnership gallery.
"This community partnership highlights talented students who are the future of Edmonton's creative economy," says Cliff Higuchi, vice-president and general manager of the Shaw Conference Centre. "A downtown convention centre is the ideal year-round focal point for the community to engage in the development of arts and culture."
Selected students' stories:
Christopher Stoffelen, Grade 3, Afton School
Using tempera paint and black pastels, Christopher's painting depicts hoar frost on a gloomy winter day. "It feels amazing to have my work displayed," he says. He looks to his teacher, Jean Sadoway, for inspiration.
Jacob Sahunta, Grade 9, T.D. Baker School
Jacob counts Picasso as his inspiration. "For as long as I can remember, I've expressed myself through art." He liked the abstract effect he gave his landscape painting, which uses watercolour and oil pastels.
Jessica Mejia, Grade 12, M.E. LaZerte School
Jessica's artwork represents her concept of outer and inner beauty. "Art is my home, a place I can express myself freely without rules and regulations. It's a place I can escape to," she says. Jessica cites European Baroque artist Peter Paul Rubens and her teacher Brenda Savella as her inspirations.
Note: School board and centre officials and selected students will be available for interviews. The art can also be viewed at http://www.epsb.ca/artwork/index.shtml.
Managed by Edmonton Economic Development Corporation, the Shaw Conference Centre is one of Canada's premier meeting, entertainment, and convention venues, and encourages socially and environmentally responsible event-planning. For more information, visit www.edmonton.com.
Learn more about Edmonton through the stories of people who've experienced it at www.edmontonstories.ca.
Source: www.msnbc.msn.comNo link between art's emotional value and price - BBC News
20 June 2012
Last updated at
19:45 ET
Mark Rothko's Orange Red Yellow recently sold recently for $87m.
But are famous paintings so expensive because they move us more than other, cheaper works of art?
This is the question So You Want to Be a Scientist? finalist Dara Djavan Khoshdel set out to answer; He was a runner-up in BBC Radio 4's Amateur Scientist of the Year award.
He found that people's emotional response to an artwork doesn't correlate to price.
The study was conducted at Modern Art Oxford.
Mr Djavan Khoshdel, a 24 year old mature student from Bournemouth said: "We are told by the art world that abstract artworks evoke deep and powerful emotions that merit them their price tags. I thought someone should go and test that hypothesis."
Since January, Mr Djavan Khoshdel has worked together with physiologist Professor Andrew Parker and art historian Professor Martin Kemp, both of Oxford University.
Professor Parker helped turn the idea into a testable experiment.
"When Dara came along with this question, it immediately gripped me as being an interesting question," said Prof Parker, "and that is the starting point of any really good scientific investigation."
In the study, 12 participants were kitted out with a galvanic skin response monitor. Looking a bit like a wrist watch, the kit registers minor changes in sweating. We sweat a small amount when we see something that we find emotionally arousing.
After being wired up, participants were sent into the Modern Art Oxford gallery to look at a selection of war paintings by Graham Sutherland, a British artist from the 20th Century.
The researchers correlated the emotional responses they collected with the insurance values of the paintings.
Mr Djavan Khoshdel explained: "What we found really surprised us. We found that emotional arousal has no impact on the value of the work of art."
Art historian and collaborator on the project, Professor Martin Kemp, added: "The results suggest that valuation in the art world is really rubbish!"
Mr Djavan Khoshdel presented his findings at the Cheltenham Science Festival on June 16 in front of a panel of judges.
Mark Henderson, head of communications at The Wellcome Trust, said of the study: "This was terrific stuff. I really loved that it came up with a null result.
"There is something terrifically important about that in an exercise that is meant to demonstrate science - so often a null result can be more interesting than finding what you expected."
The other runners up were Izzy Thomlinson and William Rudling. Ms Thomlinson showed that women are more annoyed by horrible noises than men are. Mr Rudling investigated whether people with similar faces also have similar voices
The finals took place at Cheltenham Science Festival on Saturday June 16. The event was recorded for Material World and will be broadcast on Thursday 21 June at 16:30 BST on Radio 4.
Source: www.bbc.co.ukCristina Grajales Gallery Sells 'Occupy Chairs' For $3,500 At Design Miami/Basel (PHOTOS) - Huffington Post
Our favorite thing to come out of Design Miami/Basel this past week was Sebastian Errazuriz's mind-bending project, "Occupy Chairs." Cristina Grajales gallery showed this series, which was made out of replicas of signs used during the Wall Street protests that were marketed to the richest of the art festival's attendees. Confused? So are we.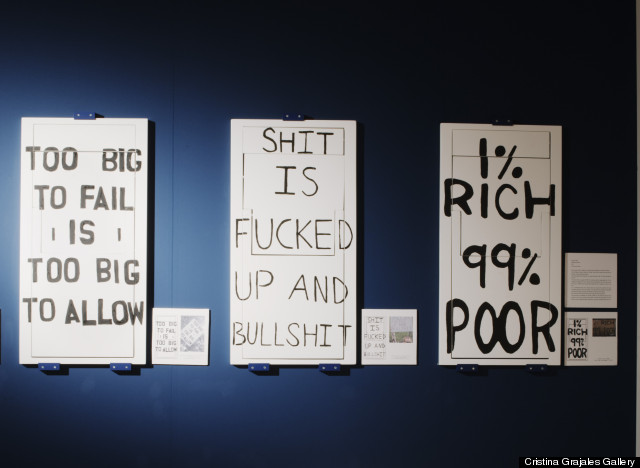 The furniture was first created as signage that doubled as fold-out chairs for protesters during the long demonstrations. But the chairs have moved onto phase two of their multi-faceted deployment plan. The artist behind "Occupy Chairs" now seems to want to infiltrate the homes of the 1% with his obvious protest paraphernalia by inviting wealthy collectors to purchase the "works of art" at exorbitant prices -- $3,500 a pop! Sure, the residents of the Financial District can be faux-art enthusiasts willing to spend money on horrendous examples of contemporary art, but they wouldn't be vapid enough to actually buy a piece of furniture that blatantly expresses hatred towards its intended buyer. Right?
Wrong. Sixteen of these puppies have sold at the festival this week alone. Granted, the purchasers of these over-priced objets d'art could have been rich Occupy-sympathizers and not the CEOs of Citibank and Goldman Sachs. But either way, individuals (most likely members of the 1%) are handing over thousands of dollars to a gallery-backed artist for art that reads "I'm so hungry I made a sign."
The baiting does not end there though. Part of the sales of the "Occupy Chairs" are allegedly going to help the Occupy movement. But the artist has deliberately withheld the exact percentage that he is donating, with the press release for the project stating that he will have to decide whether he's going to fork over 99% in support of the movement's ideals, or hoard most of the profits for himself to pursue the wealth and fame of the 1%. We did the math. If he pockets 99% of the sale of the 16 chairs already sold, the artist and his gallery are making over $55,000 off of plywood and acrylic fold-up furniture. Otherwise, Occupy could be receiving a hefty check in the mail that could buy them seating made of something other than manufactured wood panels.
We are not really sure who this exhibit is fooling, though the thought of an investment banker sitting down to a gourmet meal at his pristine dining set, equipped with eight flimsy "Occupy Chairs" that read "Hungry? Eat a Banker" is pretty entertaining. We'd also like to compliment the gallery on the room lighting -- the artwork really looks ridiculous behind that dazzling chandelier, doesn't it?
Check out images of the Occupy Chairs below and tell us what you think of the idea in the comments section!

Also on HuffPost:
Source: www.huffingtonpost.comTrenton Art All Night takes the crown for NJ fine arts in 2012 - Examiner
Artwork's Art All Night 2012 entranced spectators for the sixth straight year at the Historic Roebling Wire Works in Trenton on June 16 at 3:00 p.m. until June 17 at 3:00 p.m.
The showcase erupted over 35 musicians and bands, film screenings, installation works, a spectrum of visual pieces, and culinary heaven in the World Food Court. New Jersey flaunted its finest creations.
"This is just mind blowing," said Jon Gordon, 24-year-old from Marlton, a first-timer for the event. "I've heard people talk about it. For a person who lives in South Jersey, almost an hour drive isn't that bad when I get to see something this amazing."
He said he enjoyed the juxtaposition of work by NJ artists, such as Seward Johnson, a sculptor from the Johnson & Johnson bloodline, and Will Kasso, the bonafide graffiti savant.
Kasso explained that his friend Barbara Stange had asked him to paint her car.
"She asked for the bumper and the fender," he said. "So I just painted the whole thing. Once it was painted, I wanted to display it at AAN. It was a big hit."
Kasso also painted a piece for the Black-light Graffiti Lounge. This year, he stepped aside to bestow spotlight on some emerging artists.
"I let them paint," he said. "The BLGL was beautiful. It was mad house."
The BLGL artists traded in canvas for human skin in Rock Ya Body by Leon Rainbow. Artists illuminated six models with the black-light paint before photographers angled the women for shots. Crowd volunteers were painted next.
"I was personally painting for five straight hours," Rainbow said.
He invited Isaias Crow to the event. The 34-year-old artist from San Diego showcased his spray-paint and acrylic hybrid piece "Crolerized: Bountiful Hands".
"It's my name in graffiti letters mixed with the energy and essence of a woman," Crow said. "Been showing work since 2006. This [AAN] is gorgeous. I do a lot of community organizing in San Diego. I'm inspired."
Trenton's own Werner Born was featured for the fourth consecutive year. The 23-year-old has been an artist his entire life, despite his career as an engineer.
"It's really cool that anyone can submit [art work]," he said. "It's my first year selling a piece."
His digital painting "Finish The Fight" sold for $115. He stood in line with an empty wine glass that was about to be greeted by AAN's annual smorgasbord of wines.  Critique the wine, keep the glass. The art of fermentation produced an insatiable crowd.
"I came because my man told me there was $4 drink-all-night beer," said Andrew Wilt, a 24 year-old from Trenton, who attended AAN for the first time. "It's been a good night. The Drum Circle was bad ass."
The AAN Drum Circle sounded off the 24 hour celebration.
Wilt was more impressed by the performances that followed the punk rock bands.
"It was all good vibes," he said. "My favorite bands were Chalk And The Beige Americans; they were this white boy reggae punk band. The band right before them was hot too."
"The last guys, Sweet Eureka, were a tremendous band," said Gary Moto, a local musician who came to see the event. "They gave me their CD. He was playing with the same amp I played in 1973."
Musical performances lit up two stages: one out-door stage and one in-door stage. The DJs changed the pace to house music at 2:30 a.m.
"We've played the past four years," said Greg Ribsam, 28-year-old from Trenton and drummer for the band Dale J. Gordon who performed 12:30 a.m. until 1:15 a.m. "I like being able to get up there, speak our mind, and do what we have to do."
The intensity needed a cool down. The installation piece "That New Car Smell" by conceptual artist Andrew Wilkinson, provided an escape to the surreal.
The dark room was trimmed with silver streamers that glistened like Christmas tinsel from light emitted by the black and white film being screen on the wall. In the absence of chairs, inflated tubes speckled the floor. One could rest. Cover songs of ABBA and The Carpenters played in the background.
"The car in America is a sanctuary," said Wilkinson, who moved to Pennsylvania from England, and now resides in Titusville. "When you get in your car, you're in control. It's your bubble and your stuff. When you come in here, you're not in control."
He said the installation x-factor is the element of security. The black and white film was created from a trip through the car wash.
Wilkinson's two other films, "Light Water Robot" and "Kiss Kill" were screened in AAN's first annual Film Screening.
"I was very pleased how well-received and smoothly the first annual AAN Film Festival went," said Film Festival Captain Joshua Borden. "There was always someone present during a showing, enjoying the film being presented. I am proud to say that every film submitted this year was shown!"
AAN's Film Festival boasted 53 films its freshman year, according to Borden.
Need front desk assistance? There's an installation piece for that. Trenton Social presented the Social Blog Lounge.
"They made this an installation piece itself, with an office look," said Art All Night Blogger Kate Concannon, a 25-year-old from Cherry Hill. "That's why we have the old school Macintosh and the fish."
Concannon and fellow AAN Blogger Nick Stewart stationed the office to keep the world connected with artist interviews and updates through FaceBook, Twitter, Instagram, and blogsallnight.tumblr.com.
Trenton AAN 2012 featured over 1000 art pieces. No official feedback was provided on  the number of pieces sold. About 19 special events were presented, as well as 17 vendors to explore at the World Food Court. Sponsors included Blue Moon, Diffy Productions, The Times of Trenton and nj.com, and many more.
According to Event Director Cathy Campbell, Trenton AAN 2012 recieved approximately 18,000 attendees.
That is 5,000 more people than last year's Trenton AAN.
"I think it's amazing and so well put-together," said Christina Shay, a 33-year-old event volunteer from Lambertville.
"We killed it!" said Black Collar Biz, a 28-year-old hip hop artist from Trenton. "People tonight were saying that this is what Trenton needs."
Trenton continues to prove itself as the cultural epicenter of the East Coast.  The city's creative intellect raises the bar for modern fine arts.
 
Source: www.examiner.comMisha B unveils new single 'Home Run' artwork - picture - Digital Spy
Source: www.digitalspy.co.uk