New Artwork Finds A Home At An Old English Manor - NPR News
A set of installations by the contemporary British ceramicist Edmund de Waal has gone on exhibit at a stately home deep in the English countryside. If de Waal's name sounds familiar, it might be because of his 2010 book, The Hare with Amber Eyes, which traces the fortunes of the artist's once-wealthy Jewish forebears. The book itself set off a chain of events that led to the exhibition.
More On De Waal's Book
To de Waal — a maker of delicate and mysterious porcelain works — objects tell stories. In The Hare with Amber Eyes, he writes, "How objects are handed on is all about story-telling. I am giving you this because I love you. Or because it was given to me. Because I bought it somewhere special. Because you will care for it. Because it will complicate your life. Because it will make someone else envious."
To de Waal, stories can also become objects, unreliably passed from hand to hand — like the stories that reached him of his vanished ancestors.
The hare in his book's title refers to one of the tiny Japanese netsuke figures de Waal inherited from his great-uncle, just about all that remains of the wealth of the Ephrussi family — European Jews at one time as rich and well-connected as the British Rothschilds.
Paul Barker

/

The National Trust, Waddesdon Manor
De Waal's exhibition is housed at Waddesdon Manor, the historic country seat of the Rothschilds, now run by the Rothschild Foundation and Britain's National Trust.
It's a fabulous, 19th century faux-French chateau 50 miles from London, stuffed from its creaky floorboards up to the rafters with priceless porcelain, furniture, paintings and sculptures.
One of the curators read de Waal's book and realized he was a distant cousin of the Lord Jacob Rothschild. "The invitation came, then, from them, and also from Lord Rothschild, to do something here," de Waal explains, "to be in conversation with this house and these collections — and also with this shared Jewish history, European history, of collecting and Diaspora."
De Waal's installations are scattered among the ground floor rooms: white, or sometimes black, cylinders of wafer-thin porcelain, with occasional splashes of gold, arranged inside black-framed display cases called vitrines. Carefully placed throughout the manor's grand rooms, the space between the objects is as important as the objects themselves.
De Waal's skills and his aesthetic were honed during early study in Japan, and it's a kind of Zen Easter egg hunt looking for his ghostly, minimalist pieces tucked among the clocks, statuettes and rare Meissen porcelain that seem to fill every horizontal surface.
Paul Barker

/

The National Trust, Waddesdon Manor
In the breakfast room, two vitrines sit on clear Perspex bases; they seem to hover above the marble-topped 18th century consoles. De Waal calls these pieces between two breaths.
"They sit opposite these incredible figures of animals, which were made in Meissen — tremendous, famous bits of porcelain," says de Waal. "And so it's simply a dialogue between me, as someone who sits down at my wheel and uses porcelain, and a wonderful, wonderful porcelain artist 300 years ago."
The vitrines, he says, are a new departure, inspired by the one that first held his netsuke figures that was purchased by the Parisian Ephrussi forebear (whom Proust used as a model for Charles Swann in Remembrance of Things Past).
De Waal says his Parisian and Viennese predecessors didn't seek objects just for their beauty — through their collections, they were seeking or asserting acceptance, trying to anchor themselves in societies which, it would become clear, never fully accepted them. What little of the Ephrussi fortune that survived the first world war was swept away in the second.
Paul Barker

/

The National Trust, Waddesdon Manor
The Rothschild family made different decisions at history's pivot points and has emerged with its fortunes largely intact. Lord Rothschild, a tall man with an elegant air, viewed the exhibition on its opening day. He says the themes of collecting and belonging addressed in Waal's work resonate with his family, too.
Some visitors might say de Waal's minimalist forms don't really fit in the lavishly decorated manor. But Lord Rothschild says that's not the point: "I mean, do they look beautiful in the context of, say, this room? And if you look at how his pieces, here, answer that beautiful candle piece, there — I think it works very well, and it's very interesting, I think, to see them together."
De Waal says he sometimes thinks about how, but for a few turns of the karmic potter's wheel, a house like this might have been his. It has certainly brought home to him the scale of what was lost, he says.
But de Waal's real home is his art and his storytelling, "and that's much more important to me than the having of fabulous French furniture," he says.
But, he adds with a laugh: "Wouldn't mind a Degas, though — if anyone's gotten my Degas, wouldn't mind one of those back. Or a Manet! Or a Renoir!"
Edmund de Waal's work will be on display at Waddesdon Manor until Oct. 28.
Source: www.npr.orgCalifornia's Egypt Problem - NBC Bay Area
If you're a Californian who follows international news, you probably heard about the Egyptian presidential election -- without realizing the connection to California.
That connection is the top-two system of selecting candidates for office. Both places used it for the first time in elections, within weeks of each other.
In Egypt, the system has prompted widespread questioning and criticism about whether the results are really democratic. Egyptians, like Californians, confronted long ballots full of candidates from a variety of parties, and had to choose one. The top two candidates -- Mohammed Morsi and Ahmed Shafik -- advanced to the second round election, which was held a week ago, and won by narrowly by Morsi.
But Egyptians felt with good reason that the elections represented a betrayal of democracy. That sense of betrayal had something to do with the military's decision to dissolve the Parliament.
But it also had to do with the system itself. With the jungle first-round primary, the two leading candidates advanced even though -- together -- they had the support of less than half of those voting.
Morsi had 24.8 percent of the vote and Shafik 23.7 percent. Neither man is considered a champion of liberal democracy, but because of the system and the decision by many more liberals to run, that vote was divided up. So Egyptians were left with a choice between an Islamist in Morsi and a creature of Hosni Mubarak's regime in Shafik. Some choice.
The Egyptians also had far-lower-than-expected turnout, just 43 percent in the first round, despite the fact that this was the first truly democratic election in some time.
If all that sounds familiar to Californians, it should. The new top-two primary system produced record-low turnout in its debut this June.
The system has produced some strange results that limit choice. In a number of districts, two candidates advanced while getting relatively meager fractions of the overall total. The result is likely to be that, in the second round, voters may feel like they have little choice, particularly if they are say, Republicans, in a district that produced two Democrats.
There is one difference between California and Egypt in these elections: their reaction to the problems of this system. Egyptians have complained angrily and taken to the streets. Californians have been content to suffer this loss of choice and democracy in silence.
Lead Prop Zero blogger Joe Mathews is California editor at Zocalo Public Square, a fellow at Arizona State University's Center for Social Cohesion, and co-author of California Crackup: How Reform Broke the Golden State and How We Can Fix It (University of California, 2010).
Send us your thoughts via Twitter @PropZero or add your comment to our Facebook page.
Source: www.nbcbayarea.comCardiff traders hope for boost from St Mary Street market - BBC News
30 June 2012
Last updated at
09:35 ET
Shops in the centre of Cardiff are hoping for a boost in trade with the launch of a weekly street market.
Stalls selling vintage clothes, antique furniture and bric-a-brac will set up in St Mary Street every Saturday.
Huw Thomas, Cardiff council cabinet member for sport, leisure and culture, said the market would provide "a unique and diverse shopping experience".
Many traders hope the market will bring back customers deterred by disruption due to pedestrianisation work.
Since a ban on cars in St Mary Street was introduced in 2007, one of the city centre's main thoroughfares has been transformed, with work completed in November 2011.
The market will be open every Saturday between 11:00 and 17:00 for an initial 12-month period.
Coun Thomas said the weekly market would make the city centre even more attractive to residents and visitors alike.
Continue reading the main story
"Start Quote
The Castle Quarter end of the city has really taken a significant dip in footfall so it does need a kickstart"
End Quote
Ian Davis
Garlands coffee shop
"The capital already has excellent shopping provision and this new market will give people the chance to pick up some one-off finds whilst enjoying a distinctive and vibrant atmosphere," he said.
'Vibrant'
Gareth Simpson, development manager for the Riverside Community Market Association, said they were asked to manage a weekly event after trialling a farmers' market in the High Street opposite Cardiff Castle last summer.
"The council wanted to broaden it out, something to complement what's going on in the built shopping area," he said.
"We'll have 25 or 26 stalls initially, but as time goes on if it's successful there is scope to expand further up the street and really create a Saturday feature.
"Big cities have vibrant street markets - we have to be vibrant too."
Continue reading the main story
"Start Quote
Big cities have vibrant street markets - we have to be vibrant too"
End Quote
Gareth Simpson
Riverside Community Market Association
Although the market will include some artisan food stalls, Mr Simpson said no hot food would be served because of concerns from local cafes.
Ian Davis, co-owner of Garlands coffee shop in nearby Duke Street Arcade, said the food stalls were his main worry although he broadly welcomed the market.
"With the advent of St Davids 2, the pedestrianisation, the changing of bus routes, the general dip in the economy etc, the Castle Quarter end of the city has really taken a significant dip in footfall so it does need a kickstart," he said.
"Doing something like the farmers' market or any type of market where a certain type of person will gravitate towards is nothing but a good thing.
"But I'm involved in food and drink so in the short term it will actually take customers away from me."
'Knock-on' effect
Traders already selling vintage clothing in the city centre arcades welcomed news of the market.
Peter Walsh, assistant at Hobo's Vintage Clothing in the High Street Arcade, said: "The more the merrier I think.
"If you look at Camden and places like that there are loads of places in one area, so I think it's a good thing."
Glenn Thompson, manager of the nearby I Claudius vintage clothes store in the Castle Arcade, said: "It's going to have a knock-on effect - more people will be in the area so they might come here and spend some money here as well."
Elaine Lewis, manager of Claire Grove Buttons, hoped the market would boost business which had suffered due to the pedestrianisation work.
"I think it's great - it's what Cardiff needs," she said. "We should have had one a long time ago.
"Since the bus stop has moved from the end of Castle Arcade and they've moved the crossing further up, we have noticed a lot of footfall has disappeared."
"We don't get the coachloads of tourists parked at the end of the arcade any more and we don't get as many people cutting through.
Continue reading the main story
"Start Quote
It's what Cardiff needs ... we should have had one a long time ago"
End Quote
Elaine Lewis
Claire Grove Buttons
"However, saying that, the pedestrianisation of St Mary Street I think is great. People can get to us easier, you don't have to wait to cross the road and I think it's opened up the whole area really."
Mike Podesta, manager of Cranes Music Store, said: "It'll be nice to have a bit of footfall at this end of the street. It's been quite quiet since the road closures so I think it's very positive."
Many shoppers said they would take a look at the market although opinions differed as to its attractions.
Avril Seward, from Grangetown, said: "I like things from the past but we already have Oxfam so I don't see what new things they're going to bring."
Rhiannon Phelps, from Carmarthen, now living in Cardiff, was more positive.
"I love things like that," she said. "I always go to antique stores - I don't really like all the clothes shops, I do prefer markets."
Student Phil Pexton said the market would help show the benefits of a pedestrianised street.
"If anything it brings more people in," he said.
"Before it was quite a busy street on a narrow pavement, now widening the whole thing it's allowed more people to get in here so I think it can't be a bad idea at all."
Source: www.bbc.co.ukAt the Rothko Chapel: Art, Meditation and Reverence - Huffington Post
"Resting the mind can be accomplished by meditation, and also by artwork, which allows the intuition to flow: the conscious mind recedes. Meditation and artwork at their best complement each other, and true things emerge." --Candace Loheed
In doing research for my recent blog about the impact of the Richard Diebenkorn "Ocean Park" exhibition at The Orange County Museum of Art (OCMA), I discovered something noteworthy in the public response to the show. During my three visits to OCMA I had noticed that the galleries were unusually hushed, and that people were taking their time, lingering in front of the paintings. Slow looking, rather like the intense scrutiny a painter might give his or her own work during the course of its creation, was very much in evidence.
Normally, I think that people go to art exhibits to "see" things, but something about Diebenkorn's large abstractions caused some to use seeing as a way to access another kind of experience. More than a few visitors wanted to meditate on the paintings; to use their inspections of the art as a means to turn inward towards both the personal and the spiritual.
Meditating on a painting can be a way of "connecting" with the original state of mind of the image's creator, since the act of painting itself can be said to be a form of meditation. Artist Robert Morrisey, who is also a trained art therapist, explains how this might work:
"The practice of perceptual representation enlists the principles of and is analogous to the practice of 'meditation'. It cultivates an awareness of the intrusions and distractions of the mind that impede perception. It requires a slow, steady and sustained point of focus. It demands our time, patience and trust. It rewards the practitioner with a richer and deeper understanding of and empathy for the world we inhabit."
Several people intimately involved with the presentation of the "Ocean Park" show made a connection with meditation. The exhibition's curator, Sarah Bancroft, told me that her regular visits to the show had been a "daily meditation."
Author Peter Clothier, who has observed that museum goers spend an average of six seconds in front of a painting, came to OCMA to facilitate one of his "One Hour/One Painting" workshops. Clothier gathered small groups to sit in front of individual Diebenkorn paintings for an hour. He then asked his participants to meditate on the works, with their eyes alternating between open and closed. Zen poet Peter Levitt, who contributed an essay to the "Ocean Park" catalog, later facilitated a standing meditation and writing workshop for museum docents. "I gave them ways to see them not with their eyes," says Levitt.
Richard Diebenkorn, who was famously down-to-earth, would have likely been puzzled by the idea of people "meditating" on his works, and most art museums are conceived with the idea that shows should present well-lit paintings to crowds of visitors who will be chatting with each other, or listening to docent talks and audio tours. Meditation, especially silent meditation, seems to belong in temples, ashrams or memorial chapels.
There is, however, one especially fine place in the United States where silent meditation in the presence of great modern paintings is encouraged. It is the Rothko Chapel in Houston. Established in 1971 by John and Dominique de Menil, who were avid collectors of modern art, the chapel houses a suite of fourteen deeply toned purple and maroon abstract murals painted by Mark Rothko in 1967.
The entry lobby of the Rothko chapel displays sacred texts from a wide range of religious traditions, but the experience it provides doesn't have to be religious. "The chapel invites people to experience the divine on their own terms; or not." explains Emilee Whitehurst, the chapel's Executive Director. As Dominque de Menil explained in 1977, the chapel was conceived to provide a non-traditional sacred environment:
"The Rothko Chapel is oriented towards the sacred, and yet it imposes no traditional environment. It offers a place where a common orientation could be found -- an orientation towards God, named or unnamed, an orientation towards the highest aspirations of Man and the most intimate calls of the conscience."
Emilee Whitehurst says that one of the chapel's intended functions is to bring a sense of reverence into a secular setting using modern art as a touchstone. "The de Menils were very passionate about the need for reverence," Whitehurst notes. "They were Catholic, but they also had broader spiritual convictions. They felt it was a tragedy that the modern and the sacred were diverging, and that the Catholic Church was not recognizing modern art."
Mark Rothko, who was Jewish, was commissioned by the de Menils to create paintings for the chapel because they saw his work as reaching towards a modern, universal religiosity. Dominique de Menil felt strongly that "...real creators, always working at the edge of their perceptions, may reach spiritual regions bordering on the sacred." She also held the conviction that Rothko's works represented a "search for the infinite," one that had emerged from "dark and silence." The reactions of visitors over the past 40 years, suggest that Mrs. de Menil was correct:
"These paintings are the colors I see when I close my eyes at night," wrote a visitor named Jessica on December 8, 1988. " I feel grief, a grave sense of loss... then exhilaration and calm."
Mark Rothko once told art historian William C. Seitz: "One does not paint for design students or historians, but for human beings, and the reaction in human terms is the only thing that is satisfying for me." Rothko might have been surprised at the range of human interactions that now take place in front of his paintings. The Rothko Chapel is available for ceremonies including weddings, baptisms, bar mitzvahs and memorial services (without caskets). Programs, including concerts, lecture services and symposia regularly use the august Rothko paintings as their backdrop.
Among the many regular programs offered by the Rothko is "Twelve Moments of Spirituality and Healing." Held on the first Wednesday of every month, the program provides "guided meditations offering an opportunity for healing and spiritual development." In the presence of Rothko's brooding murals, practitioners of Buddhist, Sikh, Tapping, Muslim, Christian and other meditation traditions will be leading meditations in the coming months.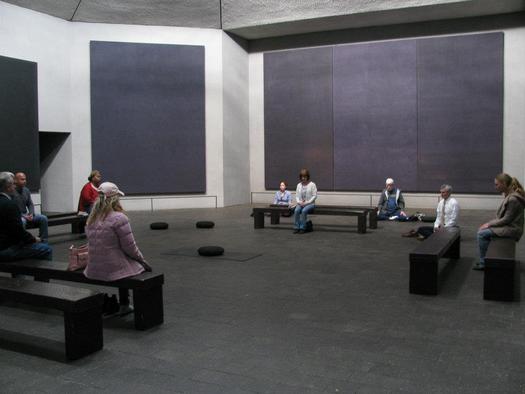 A Meditation Session at the Rothko Chapel in Houston

"The Rothko Chapel is here for people every day; it is such a gift," states Emilee Whitehurst.
"The world today needs many more Rothko Chapels," wrote a visitor in chapel's comment book in July, 1994, and the world seems to be getting more. Not far from the Rothko Chapel, James Turrell's new "Twilight Epiphany" at Rice Univesity provides seating for 120 people who can observe changes in the sky in a contemplative fashion. It is one of 25 "skyspaces" that Turrell has created across the world in the past four decades.
The Board of Trustees of Stanford University recently approved $4.2 million dollars for the construction of the "Windhover Contemplative Center," due to open in 2014, where visitors will "rest in quiet reflection" in the presence of four paintings by the late Nathan Oliveira. Unlike Rothko's Houston murals - which are abstract - Oliveira's large canvases are semi-abstract, and feature images of wings and horizons that connect with the vision of a soaring falcon in Gerard Manley Hopkin's poem "The Windhover: To Christ our Lord."
Although Oliveira was raised Catholic, his "Windhover" paintings reflect a spirituality that is poetic and responsive He told Stanford Magazine in 2002, when discussing his series that "a painting is also a vehicle. I set it up to the degree that it gives you something recognizable to interact with, and if you're creative, you create your own metaphor."
Stanford already has a church, the glorious Italianate "Memorial Church" that has survived two major earthquakes, so to some, having a contemplative center might seem redundant. Of course, strictly speaking a church is for prayer, and prayer is directed to God. Modern art, whether seen in a museum or a contemplative center is meant to direct people inward, not outward. Meditation, and "mindfulness" are for an emerging generation who call themselves "spirtual but not religious."
Then again, maybe meditation and prayer are closer than one might expect. Buddhist author Phillip Moffitt equates Christian "prayer" with Buddhist "intention," and Buddhist "mindfulness" with Christian "observance." Whatever the case, it appears that there is a growing trend to see modern art -- especially abstract art -- as a spiritual gateway.
In art museums and galleries, expect to see more slow looking and meditating. When I see it I plan to respectfully stay quiet and let it happen: I may try it myself. After all, for many of us, art galleries and museums are as close to church as we ever get. "With the eclipse of religion in the West," says David Greusel, an architect who specializes in the design of places where people come together, "the art museum has replaced the cathedral as the building type with the greatest architectural, social, and spiritual significance in a community."
Follow John Seed on Twitter: www.twitter.com/seedhuffpost
Source: www.huffingtonpost.comPavement artist Julian Beever puts finishing touches to Olympic torch design in Leicester - Leicester Mercury
Pavement artist Julian Beever put the finishing touches to his city centre artwork last night.
The Melton-born master has been commissioned to produce a 3D image to mark the Olympic torch relay passing through the county.
Julian, 52, a former art teacher, who is now asked to create artworks all around the world, said: "I've enjoyed doing it and lots of people have been stopping and chatting.
"The work is pretty close to what I'd planned. There are things I like a lot about it, but other things not so much, which is how I usually feel."
He said yesterday's final effort had gone smoothly after Thursday's storms, which required his team to close up the marquee above the artwork and hope the rain water did not get high enough to damage the chalk image.
He said: "We had a river going by. It was eventful."
People who have taken pictures of Julian's artwork are asked to send them in to the city council, before 5pm on Monday, by e-mailing:
one@oneleicester.com
Source: www.thisisleicestershire.co.uk