Planned Furniture Promotions names Robert Rosenberg a VP - Furniture Today
Clint Engel -- Furniture Today, June 11, 2012
ENFIELD, Conn. — Liquidator and promotional sales company Planned Furniture Promotions has promoted Robert Rosenberg to vice president.
Rosenberg, 32, grandson of PFP co-owner and Bob's Discount Furniture founder Gene Rosenberg, will oversee various events, merchandising, and operations of the company and "will be a key component in further improving PFP's well-known and respected event success," according to a release.
Rosenberg joins the PFP executive team after working his way up through almost every role in the company. He started as a warehouse hand in 2003, moved into store sales, became an assistant event coordinator and finally an event manager.
"Rosenberg conducted record breaking events for the company, not only in gross sales, but in profits and satisfaction for PFP clients," the company said.
Among others, Rosenberg has been involved in industry events and sales at Levitz, Modernage, Sofa Express, American Home, Georgetown Interiors, Sussan Furniture, Mazer's and most recently at Furniture Warehouse in Salt Lake City.
"I've watched Rob move through the ranks and when this new promotion was suggested by our executive team, I could not have been more pleased," Gene Rosenberg said. "Rob has worked hard and excelled on behalf of the company and our clients," he said, adding that the promotion in "well-deserved."
Rosenberg joins other PFP executives Roy Hester, Burt Homonoff, Mark Bannon and Tom Liddell. The Enfield, Conn.-based company is led by Gene Rosenberg and Paul Cohen, co-founders of PFP, which is celebrating 50 years in business.
Source: www.furnituretoday.comAbused children turn their fears into artwork for groundbreaking exhibition - The Guardian
Gently folding back the torn edges of the child's T-shirt so that the ripped and bloody heart can be seen more easily, Chris Yianni frowns down at his toddler-sized, papier-mache artwork.
"Imagine the damage a drunken man could do to this model if he really let fly," he says. "There wouldn't be much left of it, would there? My dad used to attack me when I was this size."
Yianni's mannequin is just one of the 1,000 paintings, soundscapes and sculptures by children and young adults to be showcased at the Royal Academy's groundbreaking new exhibition Child Hood – the Real Event.
In a unique collaboration, the RA has given the charity Kids Company, which supports 17,000 severely traumatised children every year, free use of five galleries in its building in Burlington Gardens, London, from 13 June until the end of the Olympics.
It is the first time the gallery has dedicated serious space to the art of children. But, says Beth Schneider, head of learning at the Academy, the art they have produced is outstanding.
"The way these children have worked their experiences through into art is not only incredibly moving and sometimes quite shocking but it is amazingly skilled," she says. "Their honesty and openness is really inspiring."
The art lays bare the preoccupations of children for whom abuse and trauma is an everyday occurrence. These children are not worried by monsters under the bed. Instead, their artworks show visceral fears of being shot, stabbed and raped; of being homeless and hungry.
One film features a pack of terrified children running through labyrinthine council estates, unable to escape. Another work has a gaping child-shaped hole in the centre. "The five-year-old girl who made this, tore out the model of herself at the last minute," says the charity's founder Camila Batmanghelidjh. "She wanted to send it to her father, who is in prison."
Yianni's mannequin has a knife in its chest thrust almost to the hilt. Seven flags hang from its blade, reading: parents, social services, carers, school, prison service, society, criminal justice system.
"The services whose responsibility it was to protect me, ignored me when I was abused then punished me, because when I escaped I had to live on the streets and railways; stealing and robbing to feed myself and survive," he says.
Yianni ran away from home the first time when he was eight. "I used to be gone for weeks at a time, drinking and smoking cannabis to stop myself going completely crazy. No one asked why a little kid was behaving in this way. Each time I was caught by the police or social services, I was just taken back home, where the abuse got worse. When I was old enough, they sent me to young offender institutions. Then to adult prisons."
Between the ages of 14 and 26, Yianni spent seven Christmasses behind bars. Two months ago, Kids Company wrote to the judge about to send him to prison yet again. "I begged the judge to let me try it my way," says Batmanghelidjh.
Kids Company paid for Yianni to go to a private hospital, where he was diagnosed with severe and multiple trauma, and put on anti-seizure medication to regulate his moods. The charity now pays for his weekly counselling sessions and for a small flat in the countryside.
For the first time in his life, Yianni is off drugs, has a home and, although he still suffers night terrors, can usually get back to sleep after waking up in the early hours, shrieking and crying with fear.
An independent evaluation by the University of London over three years found Kids Company provides "an outstanding service" to its children, about 85% of whom are homeless, have emotional and psychiatric disorders, are multiply traumatised, or are addicted to subsidences. The charity's 88% impact on crime reduction and 97% "effectiveness" rating has much to do with its focus on arts as part of the children's recovery, says Batmanghelidjh.
"Art unfreezes trauma from a state of explosive potency," she adds. "The children's artistic work tends to be aggressive and compulsive but it's very powerful and uplifting, too.
"They have so much poetry, these children, because they have seen the worst of humanity. When they re-engage with life, they have deep insight that is absolutely extraordinary."
Over the past four years, the academy has worked alongside the charity's 15 arts psychotherapists to help children exorcise their traumas through creativity. Working with such traumatised children is not an easy task, says Batmanghelidjh. Their work can be deeply disturbing; their lack of self-worth means they often try to destroy whatever they create.
In Looking for Alleycat, a girl who lived on the streets from age 12 to 18 creates a nightmarish maze of places she used to sleep. Fragments of herself are scattered in railway stations, crack dens and garbage cans.
But Alleycat, as she was known when she lived on the street, is one of the charity's many positive stories. Despite having barely been to school since she was 10, she was recently given an unconditional place to study English at university.
Another severely abused teenager has won a place on the Royal Court's creative writing programme. Another has designed a "baby hoodie", now on sale at Liberty's department store in London.
For these young people to survive their childhoods is not easy, says Batmanghelidjh, in a country that comes bottom of Unicef's league table of child wellbeing, across 21 industrialised countries.
Yianni is partly awed that his work will be exhibited in the Royal Academy – and partly furious. "The people who run the academy and the people who visit it are the ones who need to be woken up to the truth of childhood in the UK," he says.
"They have invited us in and I'm grateful for that, but it's a very different thing to listen to what we're saying – and then do something about it."
"A lot of the kids I grew up with are dead now but there are others going through exactly what I did," he adds. "They're living lives of absolute hell. They don't just desperately need help, they deserve it, too."
Source: www.guardian.co.ukArtist Jason de Graaf Creates Amazing Hyperrealistic Paintings (PHOTOS) - Huffington Post
We recently came across Jason de Graaf's incredible artwork via The Daily Mail. The Canadian painter created an astonishing series of hyperrealistic artworks that must be seen to be believed. In an e-mail to The Huffington Post, he assured us the images below are actually paintings, but we're sure some of you will disagree.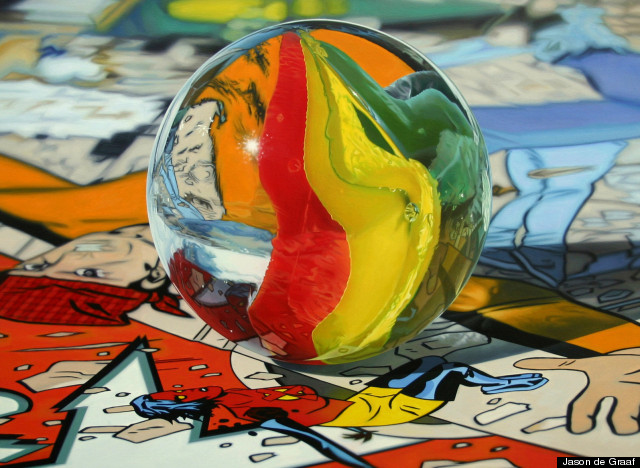 Jason de Graaf, "The X-Statix," 30" x 30", acrylic on canvas.

De Graaf painstakingly details the contrasting texture and unwieldy surfaces of his distinctly arranged still lifes. But his works are not just demonstrations of photorealistic talent. The deceptive reflections focus on a realm of reality that exists outside of the painting's frame. He stretches depth and skews perspective ever so slightly, infusing the painting with a spectre of mystery that pushes the viewer to search for an ever-escaping point of equilibrium. As he writes on his website, "My paintings are about staging an alternate reality, the illusion of verisimilitude on the painted surface, filtered so that is expresses my unique vision."
See a slideshow of de Graaf's work below and tell us what you think in the comments section below.

Jason de Graaf's Hyper-Realistic Paintings

Jason de Graaf, "A Wave of Refreshment," 24" x 30", acrylic on canvas.

Jason de Graaf's Hyper-Realistic Paintings

Jason de Graaf, "Suspension of Disbelief," 24 x 36", acrylic on canvas.

Jason de Graaf's Hyper-Realistic Paintings

Jason de Graaf, "The X-Statix," 30" x 30", acrylic on canvas.

Jason de Graaf's Hyper-Realistic Paintings

Jason de Graaf, "Fluid Mechanics," 22" x 42", acrylic on panel.

Jason de Graaf's Hyper-Realistic Paintings

Jason de Graaf, "Theory of Probability," 36" x 36", acrylic on canvas.

Jason de Graaf's Hyper-Realistic Paintings

Jason de Graaf, "Ice Palace," 24" x 36", acrylic on canvas.

Jason de Graaf's Hyper-Realistic Paintings

Jason de Graaf, "Perihelion," 24" x 30", acrylic on canvas.

Jason de Graaf's Hyper-Realistic Paintings

Jason de Graaf, "Tandem," 30" x 40", acrylic on canvas.

Jason de Graaf's Hyper-Realistic Paintings

Jason de Graaf, "You Can Only Own A Piece Of It," 26" x 41", acrylic on canvas.

Jason de Graaf's Hyper-Realistic Paintings

Jason de Graaf, "The Sphinx of Delft", 24" x 48", acrylic on canvas.
Also on HuffPost:
Source: www.huffingtonpost.com