California scrambling to stave off summer blackouts - Reuters
SAN FRANCISCO | Fri Jun 15, 2012 7:08am EDT
SAN FRANCISCO (Reuters) - California officials responsible for the state's electric grid are scrambling to avoid blackouts in southern California this summer following news that a major nuclear power plant will be offline indefinitely.
The effort to avoid a repeat of the costly power outages that plagued the state in 2000 and 2001 includes bringing old plants back online, commissioning new transmission lines and activating a multipronged emergency response system to cut power demand at peak times.
"We're not forecasting blackouts, but during very hot periods, either a very hot day or an extended heat wave, there are going to be challenges in southern California," said Steven Greenlee, a spokesman for the California Independent System Operator (CAISO), which manages the power grid that serves 30 million people.
The problem stems from breakdowns at the San Onofre nuclear power plant, located between Los Angeles and San Diego, which normally produces about 8 percent of the state's electricity. The plant's owner, Southern California Edison, announced earlier this month that both reactors at San Onofre would remain offline all summer as investigators determine what caused steam tubes in the plant to show premature wear.
To help fill the gap, California grid operators have called back into service two gas-fired units at an aging power plant in Huntington Beach that had been retired in January.
The state also accelerated the completion of two major transmission lines - Barre-Ellis and Sunrise Powerlink. Barre-Ellis connects two key southern California substations, while the 117-mile (188-km) Sunrise Powerlink electric "superhighway" connects Imperial County to San Diego.
The two measures together will almost make up for the loss of San Onofre's output, grid operators say.
AIR CONDITIONING RUSH HOUR
In case the summer brings especially hot weather, the state has also reactivated two different emergency alert systems for the public and for businesses.
The Flex Alert program, which has been on the shelf for years, will inform the public via television, radio, email and even text message to limit their consumption by turning off lights, air conditioners and other household appliances during peak hours.
That's especially important during what CAISO's Greenlee refers to as the "air conditioning rush hour" between 4 p.m. and 6 p.m.
"People come home and the first thing they want to do is crank up the air. That sucks a lot of juice," he said.
CAISO has also activated an emergency program for businesses that use a lot of power, such as manufacturers and refineries. On days of extreme demand, the state can trigger the system, which will notify utilities to tell their large industrial users to limit or shut down their operations.
This summer may also test some power market reforms implemented in the wake of the California electricity crisis of 2000 and 2001, when millions of Californians experienced large-scale blackouts.
The blackouts, eventually found to have resulted from manipulation of the electricity market by now-defunct Enron Corp, were estimated to have cost the residents and businesses between $40 billion and $45 billion.
Following the crisis, CAISO sped up implementation of its "day-ahead" electricity market. Under that system, generators and purchasers agree on their needs ahead of time, giving the grid operator an early indication if demand is going to outstrip supply.
WEATHER KEY
Officials say that weather is now the key factor determining whether blackouts will occur.
A hot summer with prolonged heat waves or the unexpected failure of another power plant or transmission line could trigger rolling blackouts, warned a report in May by the North American Electric Reliability Corporation (NERC), a quasi-governmental agency that monitors bulk power systems.
The dry California winter has also increased the risk of wildfires this summer, which could force major power lines out of service.
"We have confidence in our mitigation plan," said Greenlee. "We may have to scramble, but we believe that we're going to be covered," he said.
(Reporting by Rory Carroll in San Francisco; Editing by Jonathan Weber and Lisa Shumaker)
Source: www.reuters.comTeen's painting displayed in city hall - Independent Online
Where have you been? Win over 1 Billion ZAR.
Source: www.iol.co.za'A fantastic field of visual ecstasy' – the art of Tim Rollins and Kos - The Guardian
In 1981 I was recruited by a really rough public junior high school on Kelly Street in the South Bronx to teach art classes for students with special needs. It wasn't long after I started this work that a band of the most dedicated and enthusiastic kids would hang out in the art classroom after school to make things. Soon, it became obvious that we needed a space of our own outside of the school system. We found a large space in a nearby abandoned public school that had been converted into a neighborhood community centre. We called the space The Art and Knowledge Workshop and we called our team "KOS" ( for "Kids of Survival"). We met almost every day after school and on weekends to create collaborative paintings inspired by classic works of literature and music that many outsiders assumed would be beyond our ability to comprehend or appreciate.
Thirty-one years later, our paintings are in the permanent collections of over 95 museums worldwide including the Tate Modern in London.
KOS and I continue to conduct art making workshops with young people throughout the world. Several of the team's original members still work with the group.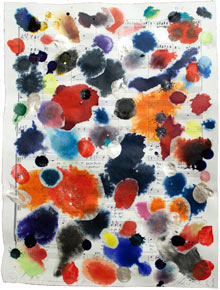 Our participation in Wide Open School will engage with Shakespeare's A Midsummer Night's Dream. We always paint on a grid of book or music score pages that are carefully glued in a grid on canvas. This time, we will be painting on the music score for the incidental music for A Midsummer Night's Dream, written by Felix Mendelssohn (who began composing the work in 1826 when he was a teenager).
For us, the central character of Shakespeare's comedy is Puck. Puck is a creature who loves to create transformations just for the sheer, mischievous joy of it. Puck is our role model – the ultimate artist. In our workshops at Wide Open School we'll ask the participants to invent magic flowers in pencil and watercolor – hundreds of them. These bizarre but beautiful blossoms should look like they possess a juice, a nectar that when squeezed on the eyelids of someone sleeping causes that person to fall madly in love with the first living creature they see upon awakening. All the flower elements will then be collaged onto pages from Mendelssohn's score for A Midsummer Night's Dream, conjuring a quick, bright, confusing and fantastic field of visual ecstasy.
Source: www.guardian.co.ukCalifornia employers add 33,900 jobs; jobless rate falls to 10.8% - Los Angeles Times
California's labor market showed resilience in May, a sign that the state's slow recovery is still on track.
The unemployment rate dipped to 10.8% last month from 10.9% in April, according to the Bureau of Labor Statistics.
Job growth was solid as employers added 33,900 jobs, the largest month-over-month increase in the country. Sectors posting the largest gains were leisure and hospitality, which added 13,200 jobs; and professional and business services and education and health services, which each added 10,500 jobs.
California's unemployment rate remains the third-highest in the country, behind only Nevada, with 11.6%, and Rhode Island at 11%. The national jobless rate is 8.2%.
ALSO:
California home sales surge 17.6% in May
Consumer prices fall; jobless calims rise again
Another double-digit drop leaves SoCal gas prices near $4 a gallon
Source: www.latimes.comRestored Caravaggio's Lazarus is shown in Rome - BBC News
15 June 2012
Last updated at
12:07 ET
Caravaggio's Resurrection of Lazarus has gone on display in Rome, after seven months of restoration work.
The painting, also known as The Raising of Lazarus, is believed to have been painted in 1609, one year before the artist's death at the age of 38.
It depicts the story in the Gospel of St John in which Jesus raises Lazarus from the dead.
It marks the first time the painting has been restored in 60 years. It will remain in Rome until 15 July.
The painting was housed for centuries in the church of the Crociferi fathers in Messina, Sicily, before it was moved to the city's museum.
It shows the instant that Christ points to the dead Lazarus - who is being held in the arms of those who exhumed him - and brings his friend back to life.
The background of the painting is mostly dark, which art historians say was probably because Caravaggio was in a hurry to complete the commission.
"During this period of his life, Caravaggio was forced to finish his paintings very quickly, and therefore he refined his technique in order to achieve this objective," said restorer Anna Maria Marcone.
"He used local materials and used the dark background in order to quickly realise the figures," she told a news conference.
The painting was done on six pieces of canvas - five vertical and one horizontal - that were sewn together to reach the desired size.
Marcone said the most difficult part of the restoration was repairing some of the damage done by what was believed to have been the first restoration on the painting, in 1670.
The painting was unscathed in the great Messina earthquake of 1908, which killed some 200,000 people and destroyed thousands of buildings in Sicily and Calabria.
It will be on display in Rome's Palazzo Braschi, overlooking Piazza Navona, until mid July, when it will be returned to Sicily.
Source: www.bbc.co.ukCalifornia man in dramatic sea rescue after his yacht collides with a WHALE - Daily Mail
Max Young, 66, from Sacramento, was on the last leg of a world trip and had been through pirate-infested waters without a hitch
US Coast Guard describes how Mr Young feared he was going to drown
Wife Debra says boat was just two feet from sinking when he was rescued

PUBLISHED: 05:08 EST, 15 June 2012 | UPDATED: 06:02 EST, 15 June 2012
A 66-year-old man was dramatically rescued after his yacht was hit by a whale and started sinking off the coast of Mexico.

Max Young of Sacramento, California, was sailing alone 40 miles west of La Playa, Mexico, when his 50-foot sailboat Reflections was struck by the giant mammal.

The impact from the collision knocked out the vessel's propeller and rudder and it started flooding with seawater.
Scroll down for video

Lucky escape: Max Young (pictured) was described by the US Coast Guard as a 'seasoned sailor'
Young, described by the US Coast Guard as a 'seasoned sailor,' activated an emergency signal that was picked up by officials in Alameda, California, and a C-130 Hercules plane was sent to find him.
By the time the coast guard made radio contact with the stranded mariner three hours later it was pitch black, his boat was close to being totally flooded and he feared the worst.
Lieutenant Amy Kefarl, of the US Coast Guard, told KXTV in Sacramento: 'He thought he was done.
'He was actually pretty frantic.
'He asked me to make sure [we] told his wife that he loved her and that he had something for his grandkids to give them. We reassured him [and] told him that help was on the way.'

Video footage shot from the nose of the coast guard's aircraft showed rough waves tossing Mr Young's boat around.
Whale of a tale: Max Young of Sacramento, 66, was rescued on Wednesday after his sailboat was hit by a whale
Rescuer: Lieutenant Amy Kefarl, of the US Coast Guard, (pictured) reassured Max Young he would be rescued
Luckily for Mr Young, a container ship was only about 60 miles away and altered course to rescue him.
When it arrived at about 4am on Wednesday, Mr Young was able to scramble off his boat by a rope ladder thrown down by the crew and escaped unharmed.
'This case is one of those success stories,' Petty Officer 2nd Class Pamela Boehland, of the US Coast Guard, said.
'A man went out prepared, the worst happened to him and he was able to respond.'
Mr Young had safely sailed all around the globe in the yacht, including pirate-infested waters off Yemen, and was on the last two days of his journey back to California.
His brother, Joe Ferro, had been due to join him on the final leg of his world trip.
Mr Ferro told CBS Sacramento: 'I just can't believe it because he is very careful and that boat has got every warning device there is for anything coming at him except a whale.'
He said his brother would have remained calm as the boat began sinking.
'Knowing Max, he doesn't panic - he figures out "OK, what do I have to do next?" and he does it.'
But Mr Young's wife Debra said she was horrified at just how close her husband had come to drowning.

'He said there was two feet before she [the boat] was completely under,' Mrs Young told CBS.
She said Mr Young stuffed mattresses into a hole made by the whale, but had to bail out water for nine hours before the coast guard found him.

Mr Young is thought to still be on the freighter, which is heading for Panama, and his family hope he will be home in time for Father's day on Sunday.
There was a less happy ending for his yacht, however, which was last seen sinking.
Stranded: Max Young was sailing alone 40 miles west of La Playa, Mexico, when his boat was struck by a whale
That sinking feeling: Footage of Max Young's yacht taken from the nose of a US Coastguard C-130 Hercules plane
Collision: Max Young's 50-foot sailboat Reflections (pictured) was struck by a whale
Source: www.dailymail.co.ukArtwork: Another way to look at NBA Finals - ESPN
These NBA Finals -- knotted 1-1 as the Thunder and Heat head to Miami -- might become among the most dramatic in league history.
Such drama calls for special rendering. Enter Dustin Watson, a 30-year-old, Phoenix-born-and-raised graphic designer who on the side runs his website Dark Wing Illustration, home to a series of stunning, vividly colored portraits of numerous NBA players and other athletes.
Like this one:
Naturally, Watson doesn't just illustrate LeBron James and other players from the Miami Heat and Oklahoma City Thunder. Truth is, as a Phoenician he's an incurable Suns fan,
often featuring
the boys from the Valley (and even composing
a Suns-themed comic strip
once upon a time).
But he does have quite the collection of Heat-Thunder work -- pieces that, among other things, mix 2-D and 3-D, realism and comic book sensibility, all of which creates an image more memorable than a photograph. Watson was kind enough to share these with us, as well as his thoughts about art and basketball via email.
How'd you get started in basketball art? I imagine it began long ago ...
"I've always enjoyed sketching -- my notebooks in school were consistently filled with more doodles than actual notes -- and I started doing little illustrations in MS Paint on my parents' old computer that didn't even have the Internet when I was in high school.
"I really got serious about finding my style and improving as an artist about eight years ago, and have been combining my loves of illustration and basketball ever since."
Do you remember your first NBA one?
"The first one I ever did was Amare Stoudemire -- I thought it was AWESOME ... looking back, not so much. But that feeling of accomplishment really gave me the motivation to continue.
"It was back when the Suns were running with [Stephon] Marbury. Honestly, I always loved Amare and I remember reading a basketball magazine that had done a feature on him and thinking I should try it. Up to that point, I had done mostly simple stuff and figured I needed to just jump into the deep end and challenge myself."

Seems like you're quite the Suns fan, judging from your portfolio.
"I'm a Suns fan for life, although I am a fan of basketball first and foremost. I love playoff basketball and am excited for this series. I'm really hoping it goes seven, and while I wouldn't mind seeing either team win, I would love to see LeBron get over that hump and finally carry a team to the title."
Speaking of which, are you planning any more Finals-themed illustrations?
"I have a couple of other things I'm working on right now, but I'm thinking that once it's all said and done, I'll probably do an illustration featuring one of the first-time NBA champions with the Larry O'Brien Trophy."
All images courtesy of the artist.
Links to featured works: James, Kevin Durant, Russell Westbrook, Dwyane Wade, Westbrook/Durant.

Source: espn.go.comBudding young painters at Notre Dame Preparatory School are inspired by the Norwich School of Artists - EDP 24
Children at the Notre Dame Preparatory School put their hand to painting a landscape in the style of the Norwich School of Artists. From left, Faith Fulcher, 7; Noah Kingston, 8; and Harriet Hathway, 9. Picture: Denise Bradley
Schoolchildren have been creating their own landscapes after being inspired by the works of master painters.
Year three and four students from Notre Dame Preparatory School in Dereham Road, Norwich, spent yesterday taking part in an Open Skies workshop that focused on the work of the Norwich School of Artists, and then gave the budding young artists the chance to create their own masterpieces based on the John Crome painting Road with Pollards.
Roxanne Matthews, of LivingNorwich, who organised the event, said: "At the beginning we were inspired by the Norwich School of Artists, particularly John Crome and John Cotman, and we also had an original John Thirtle painting from the Art 18/21 gallery to look at.
"We then did sketching and talked about perspective and then created paintings based on a Crome painting.
"The children all created some really fantastic pieces – some of the paintings really were masterpieces."
Kimberley Wragg, year three teacher and the school's art and design and technology coordinator, said: "The children were so engrossed in everything, so enthusiatic and excited, and every single one of them has achieved a really good painting."
After the art session, yesterday the children also enjoyed hearing some Norwich Tudor Storytelling by the Yarnsmith of Norwich.
Any other schools interested in taking part in a LivingNorwich project should email hello@livingnorwich.co.uk or visit www.livingnorwich.co.uk
Also see the LivingNorwich website for details of events open to the public.
Are you involved in a new arts event? Call reporter Emma Knights on 01603 772428 or email emma.knights@archant.co.uk
Source: www.edp24.co.uk