California pushing more welfare recipients to work - Yahoo Finance
LOS ANGELES (AP) -- Gov. Jerry Brown wants to shift the safety net protecting California's most vulnerable residents
Pressured by a $16 billion budget deficit, the governor is proposing a major overhaul of the state's welfare-to-work program with the strategy of slashing people's benefits to motivate them to get jobs faster.
The move, if approved by the state Legislature as part of the 2012-13 budget package, would save $880 million, but beyond the savings, analysts say it represents a shift in the philosophy of how the Golden State helps its neediest residents.
"It's a reversal of the state's historic commitment to these families and children," said Scott Graves, senior policy analyst with the California Budget Project. "It's a very significant change."
California is the national leader in welfare recipients. About 3.8 percent of state residents were on welfare in 2010, the highest percentage in the country. In fact, California houses about a third of the nation's welfare recipients, while only housing one-eighth of the national population.
Most of the recipients, however, are children — more than three-quarters of the 1.5 million in the welfare-to-work program CalWORKs, which stands for California Work Opportunity and Responsibility to Kids. The rest are mostly single mothers who must work or participate in job training and related activities to receive cash assistance.
The state has traditionally held a relatively generous attitude toward welfare. For instance, CalWORKs gives cash grants to children even when their parents are ineligible for benefits for various reasons, such as being illegal immigrants, receiving disability, or failing to abide by the program's rules. Only three other states — Indiana, Oregon and Arizona — have such an expansive policy.
California also allows parents to receive job services and cash grants for up to four years. Before last year, the limit was 60 months.
The policies have made the program an expensive budget line — the state spends $2.9 billion on CalWORKs and related programs — and an easy target for lawmakers looking for costs to trim with little political fallout. In years past, lawmakers have proposed doing away with benefits to children with ineligible parents and even slashing the whole CalWORKs program.
The state's budget woes have given renewed impetus to whittle away at CalWORKs. Last year, the maximum five-year benefit period shrunk to four years and monthly grants were diminished 8 percent. A family of three currently receives $638 a month, less than the rate in 1988.
For the next fiscal year, the governor is proposing more sweeping cutbacks, including a 27 percent cut in cash assistance to children with ineligible parents and further slashing the time limit for full benefits from four years to two years.
Other rule changes would restrict benefits to mothers of younger children and families earning poverty-level wages and increase sanctions on those who violate program terms.
"We felt the program was losing its focus of welfare-to-work," said Todd Bland, deputy director the state Department of Social Services' welfare-to-work division. "The reason we wanted to refocus is because of the very difficult budget environment."
The changes also come at a time when California is appealing federal penalties of $160 million because it failed to move enough welfare recipients to private sector jobs of at least 30 hours a week in 2008 and 2009, a requirement to receive federal money that helps pay for CalWORKs. Many California recipients are given part-time, publicly subsidized jobs so they get work experience.
CalWORKs recipients say getting a regular job that pays enough to support a family is not easy as lawmakers think.
Sarah Smith, a 31-year-old divorced mother of four in Los Angeles County, had been a stay-at-home mother since the age of 18, only working sporadically between having children. She was forced to turn to CalWORKs a year ago after her husband stopped paying child support. She received $850 a month in cash aid and $700 in food stamps.
She's also been able to make herself more marketable through the job services the program offers. She's beefed up her clerical skills, self-confidence and resume with a minimum-wage, temporary job as a customer service assistant with the county Department of Social Services, but the job ends this month.
She's hoping she now will be able to find a permanent job. If not, she will try for a subsidized job program where the county pays half her salary and the private employer pays the rest.
Policymakers don't realize that people need a chance to rebuild their lives, Smith said, adding that CalWORKs aid is far from enough to live on.
"It's still a juggling act," she said. "People are trying to get jobs. No one really wants to be on welfare. Most people are trying to get off it."
Nearly half of CalWORKs families move off the program within two years, but about 18 percent are long-term. Those families are often have very young children and headed by parents who lack a high school diploma or job skills, or have a family member with a disability, according to a report by the Public Policy Institute of California.
Brown's reforms aim to get parents off welfare before they become entrenched. The plan calls for parents to be hired or employable within two years of entering the program by providing job training and counseling, mental health, substance abuse and domestic violence support services, and child care. They must either work or participate in those activities to get the cash aid.
After two years, the services and some money would be cut off if they do not find a private sector job — a move that would affect about 130,000 parents, according to the state Legislative Analyst's Office.
Those parents could still receive a much-reduced cash benefit for child maintenance. A parent with two children would receive $375 a month, a drop of $263.
If parents do find employment, they could still be eligible to receive services such as child care for another two years and some cash aid if their income remains below a certain level.
Social service providers say it's overly optimistic to expect the private sector to absorb tens of thousands of people, many with minimal job skills, with California's unemployment rate the second highest in the nation at 10.9 percent in April. Only 11 percent of CalWORKs parents had private sector jobs of at least 30 hours week in 2009, according to the Public Policy Institute of California.
"CalWORKs recipients are living on a shoestring as it is," said Frank Mecca, executive director of the County Welfare Directors Association of California. "This is going to plunge many children into poverty and likely increase homelessness. You're shredding the safety net at a time when it's needed most."
Republicans say it's about time California pushed harder to get people to self-sufficiency, and say more is needed. Halving the time limit is a good move, but continuing to give parents cash for children with no strings attached defeats the purpose of welfare-to-work.
"It removes the responsibility from the parent. You're taking away the accountability from the oversight of the program," said Assemblyman Brian Jones, R-Santee, vice chairman of the Assembly Human Services Committee.
Instead of focusing on half measures of welfare reform, the governor should concentrate on job-stimulation strategies so people have a place to go, he said. "If there's no regulatory reform, he's wasting his time," Jones said.
The debate over CalWORKs' mission is likely to continue, especially if state revenues continue to fall short, said Caroline Danielson, policy fellow at the Public Policy Institute of California.
"The interest is in reorienting the program toward work," she said.
Contact the reporter http://twitter.com/ChristinaHoag.
..
Source: finance.yahoo.comCalifornia Highway Patrol Cutting Back in Austerity Move - Big Hollywood
Just as the teachers of the Los Angeles Unified School District were forced to make concessions by tentatively agreeing to take furlough days in order to help solve the district's budget crisis, California Highway Patrol officers have also tentatively agreed to take furlough time to help solve the state's $16 billion budget gap.
The agreement states that 1600 CHP officers would be furloughed eight hours each month starting on July 1. There is an eerie similarity between the CHP officers' agreement and the teachers of the LAUSD; in both cases the furloughed time amounts to a 5% pay cut.
Notably, the CHP was the first union to agree to cuts.  And the decision must be made this week; the California legislature has until Friday to pass a state budget. Last month, Gov. Jerry Brown revealed that the state had a $16 billion deficit and asked state workers to take a 5 percent pay cut.
Department of Personnel Administration spokeswoman Lynelle Jolley said California has been trying to get its 214,000 state employees to take a cut in pay. The CHP was the first group to step forward.
The austerity measures in California are similar to the measures that voters rejected in Greece, which had the largest default in history.  Greece has been temporarily bailed out by a European coalition made up of the European Union, the European Central Bank and International Monetary Fund, but the money loaned was only so Greece could pay off the interest on its debt. Meanwhile, the Athens office that tracks revenue said Greece could run out of money by July.
California has been heading for the economic cliff for years now, dominated by a Democratic legislature. Unless they are thrown out, it is likely that California will have the same bleak future as Greece.
Source: www.breitbart.comCalifornia 'not out of the woods' says Controller - The Business Journal
California is not out of the woods yet, says the state's controller.
California State Controller John Chiang said that although revenue was $83.5 million above budget estimates in May, "the General Fund is not out of the woods."
"Most of the increase over expectations in May owes to strong growth in the insurance tax, which is a tax on gross premiums, which was up $130.6 million relative to the estimates for the month," wrote Chiang in his monthly budget newsletter.
But revenue from the "Big 3" sources that are the state's most important -- income taxes, sales taxes and business taxes -- were all down, coming in 2 percent below estimates. Together, these three sources account for about 90 percent of California's general fund revenue in a year.
Sales taxes were $106.3 million below expectations, while personal income taxes were $14 million short.
Chiang warned that "the major drivers of revenues in the state are still showing signs of weakness."
Also, these budget estimates are new ones, revised downwards in May by the state as it foresaw "more tepid improvement in revenues than previously forecasted."
Compared with Governor Brown's original January budget proposal, the general fund is now $2.653 billion short. The January guess was for $74.745 billion in revenue for the fiscal year so far (July 1, 2011 to May 31, 2012). The May revision calls for just $72.093 billion.
June is the most important month now, said Chiang. "While May revenues were steady, June revenues are the ones to watch. The last month of the fiscal year is now the biggest."
If this June is like previous Junes, said Chiang, the state legislature will spend most of it figuring out how to cut costs.
"Sacramentans can expect 450 hours of daylight during June, more than any other month," wrote Chiang. "The Legislature may use the long days reviewing reductions for 2012-13."
Steven E.F. Brown is web editor at the San Francisco Business Times.
See all your followed company news on your personalized dashboard.
To access the full benefits of bizWatch and receive a weekly email with aggregated news on all the companies you are following, please provide your email address below.
Source: www.bizjournals.comCalifornia man beats stepson for dropping ball, video shows cruelty - Examiner
Slideshow: We call them superstars, but their other name is "Dad."
Source: www.examiner.comArtist Jason de Graaf Creates Amazing Hyperrealistic Paintings (PHOTOS) - Huffington Post
We recently came across Jason de Graaf's incredible artwork via The Daily Mail. The Canadian painter created an astonishing series of hyperrealistic artworks that must be seen to be believed. In an e-mail to The Huffington Post, he assured us the images below are actually paintings, but we're sure some of you will disagree.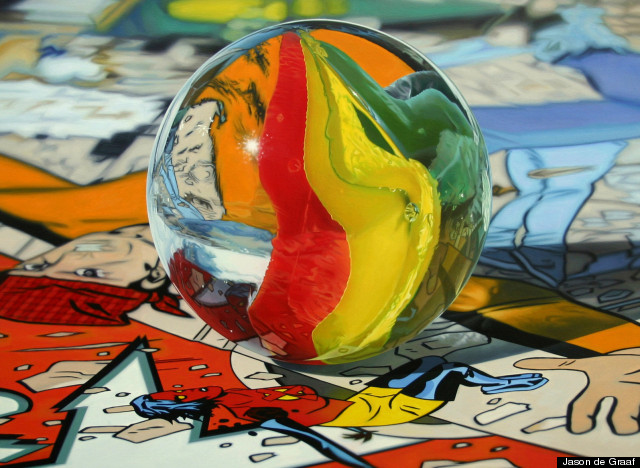 Jason de Graaf, "The X-Statix," 30" x 30", acrylic on canvas.

De Graaf painstakingly details the contrasting texture and unwieldy surfaces of his distinctly arranged still lifes. But his works are not just demonstrations of photorealistic talent. The deceptive reflections focus on a realm of reality that exists outside of the painting's frame. He stretches depth and skews perspective ever so slightly, infusing the painting with a spectre of mystery that pushes the viewer to search for an ever-escaping point of equilibrium. As he writes on his website, "My paintings are about staging an alternate reality, the illusion of verisimilitude on the painted surface, filtered so that is expresses my unique vision."
See a slideshow of de Graaf's work below and tell us what you think in the comments section below.

Jason de Graaf's Hyper-Realistic Paintings

Jason de Graaf, "A Wave of Refreshment," 24" x 30", acrylic on canvas.

Jason de Graaf's Hyper-Realistic Paintings

Jason de Graaf, "Suspension of Disbelief," 24 x 36", acrylic on canvas.

Jason de Graaf's Hyper-Realistic Paintings

Jason de Graaf, "The X-Statix," 30" x 30", acrylic on canvas.

Jason de Graaf's Hyper-Realistic Paintings

Jason de Graaf, "Fluid Mechanics," 22" x 42", acrylic on panel.

Jason de Graaf's Hyper-Realistic Paintings

Jason de Graaf, "Theory of Probability," 36" x 36", acrylic on canvas.

Jason de Graaf's Hyper-Realistic Paintings

Jason de Graaf, "Ice Palace," 24" x 36", acrylic on canvas.

Jason de Graaf's Hyper-Realistic Paintings

Jason de Graaf, "Perihelion," 24" x 30", acrylic on canvas.

Jason de Graaf's Hyper-Realistic Paintings

Jason de Graaf, "Tandem," 30" x 40", acrylic on canvas.

Jason de Graaf's Hyper-Realistic Paintings

Jason de Graaf, "You Can Only Own A Piece Of It," 26" x 41", acrylic on canvas.

Jason de Graaf's Hyper-Realistic Paintings

Jason de Graaf, "The Sphinx of Delft", 24" x 48", acrylic on canvas.
Also on HuffPost:
Source: www.huffingtonpost.comCalifornia, Oregon Battle Over Landmark Status - Voice of America
The U.S. National Park Service is about to convey landmark status upon a place on the California coast, not far from San Francisco's famous Golden Gate Bridge.

That sounds kind of routine, but some people up the coast in Oregon are not at all happy about it. 


Sir Francis Drake, the daring British explorer, is said to have sailed to that little piece of California's Pacific coastline 433 years ago, in 1579, in the middle of his epic three-year expedition around the world. 
​​
He mapped a cove where he landed - and named it and the surrounding cliffs "New Albion."  Albion, which is Greek for "white," was an early name for Britain, inspired by the famous white cliffs near Dover.​ 

Today, the California cove and bay are called "Drake's Bay" in the explorer's honor.
​​
Drake is said to have hung around for five weeks, repairing his ships and interacting with Native American tribes. That's the main reason the place is historic, for this was the first recorded contact between the British and American Indians.

So why should people up the coast in Oregon be upset?  

They say Drake's "Albion" visit didn't happen there at all, that he actually put ashore farther north on the rocky Pacific coast.

Amateur historian Gary Gitzen and other Oregonians say that first contact took place in and around Oregon's Nehalem Bay.  

If you lay Drake's own map of the cove he visited atop a map of Nehalem Bay, Gitzen says, "it's the same outline."  He's writing a book, called "Oregon's Stolen History," all about it.
​​
The National Park Service sent the conflicting claims to a couple of historic commissions, which ruled in California's favor.
​
According to the Northwest News Network, the California location's landmark designation will be a "done deal" as soon as U.S. Interior Secretary Ken Salazar signs the proclamation.

For now maybe, say the folks up north. They're not about to give up their claim that the real Drake's Bay should be in Oregon.
Source: www.voanews.com