'Dead' Berlusconi artwork with hand down own trousers unveiled - in.news.yahoo.com
London, May 30 (ANI): A new controversial artwork, which shows Silvio Berlusconi lying in a casket on a velvet carpet and gives the impression that he is dead, pokes fun at the beleaguered former Italian premier and hints at his sins.
The very realistic waxwork, entitled Il Sogno degli Italiani' or 'The Dream of the Italians', has been created by artists Antonio Garullo and Mario Ottocento, the first ever married gay couple who tied the knot in Amsterdam in 2002.
The name of the installation refers to what Berlusconi apparently called himself on the phone to one of his girlfriends, according to Italian media.
The former prime minister, who is still very much alive at 75, is seen smiling as he lies in a glass coffin with his eyes closed.
Bizarrely he is wearing giant Mickey Mouse slippers as he lies on a satin pillow in a double-breasted blue jacket.
There is also one hand inside his unzipped trousers while the other hand rests on the History of Italy.
Positioned in a shrine at the Ferrajoli Palace, the shocking installation is available for all Italians to see and is just yards from Berlusconi's former stomping ground, the Palazzo Chigi, the official residence of Italian prime ministers.
"We put Berlusconi's body into a glass case to emphasise the personality cult that he has been creating for all these years and which will possibly remain for years to come," the Daily Mail quoted Garullo and Ottocento as saying.
"At the same time we put a screen between the contingent reality and historical judgment.
"If Italians are ultimately "a people of saints, poets, seafarers" then the arch-Italian Silvio is a worthy simulacrum of this people," they said.
Berlusconi stepped down as premier last November after failing to come up with convincing reforms to help Italy exit from the sovereign debt crisis.
The last part of his term in office was marred with a constant stream of lurid revelations about his private life.
The sleazy politician is currently embroiled in a high-profile court case after being accused of paying for sex with underage minor Karima El Mahroug, also known as Ruby the Heartbreaker, in February 2010 when she was just 17-years-old. (ANI)
Source: in.news.yahoo.comArtwork will go under the hammer at Beach Road Hotel to raise money for homeless - Wentworth Courier
ARTWORK will go under the hammer this month to raise money for the area's homeless.
More than 50 original photos will be on display from tomorrow as part of the Love Is A Four Letter Word exhibition at the Beach Rd Hotel.
Bidding will be by silent auction on June 30, with all money going to Bondi Youth Accommodation. More than 32,000 young people sleep on the streets every night.
This number and the 21 Challenge which is raising money in June for homeless people inspired Mel Dymott and Julie Jenkins.
"It has been a great response," Miss Dymott said.
The silent auction is part of the final event on June 30, Winter Warmers.
From 6pm to midnight the hotel will also feature live bands, raffles, live graffiti and night food markets.
For more visit facebook.com/loveisbeachroad.
Source: wentworth-courier.whereilive.com.au'A fantastic field of visual ecstasy' – the art of Tim Rollins and Kos - The Guardian
In 1981 I was recruited by a really rough public junior high school on Kelly Street in the South Bronx to teach art classes for students with special needs. It wasn't long after I started this work that a band of the most dedicated and enthusiastic kids would hang out in the art classroom after school to make things. Soon, it became obvious that we needed a space of our own outside of the school system. We found a large space in a nearby abandoned public school that had been converted into a neighborhood community centre. We called the space The Art and Knowledge Workshop and we called our team "KOS" ( for "Kids of Survival"). We met almost every day after school and on weekends to create collaborative paintings inspired by classic works of literature and music that many outsiders assumed would be beyond our ability to comprehend or appreciate.
Thirty-one years later, our paintings are in the permanent collections of over 95 museums worldwide including the Tate Modern in London.
KOS and I continue to conduct art making workshops with young people throughout the world. Several of the team's original members still work with the group.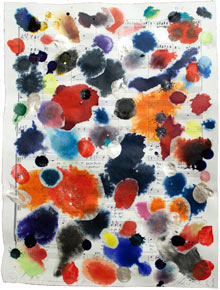 Our participation in Wide Open School will engage with Shakespeare's A Midsummer Night's Dream. We always paint on a grid of book or music score pages that are carefully glued in a grid on canvas. This time, we will be painting on the music score for the incidental music for A Midsummer Night's Dream, written by Felix Mendelssohn (who began composing the work in 1826 when he was a teenager).
For us, the central character of Shakespeare's comedy is Puck. Puck is a creature who loves to create transformations just for the sheer, mischievous joy of it. Puck is our role model – the ultimate artist. In our workshops at Wide Open School we'll ask the participants to invent magic flowers in pencil and watercolor – hundreds of them. These bizarre but beautiful blossoms should look like they possess a juice, a nectar that when squeezed on the eyelids of someone sleeping causes that person to fall madly in love with the first living creature they see upon awakening. All the flower elements will then be collaged onto pages from Mendelssohn's score for A Midsummer Night's Dream, conjuring a quick, bright, confusing and fantastic field of visual ecstasy.
Source: www.guardian.co.uk