ArtKos: Saturday Painting Palooza Vol.356 - DAILY KOS
For this week's cycle I'll be continuing with the Cape May shingle style Victorian house.  I'll be using my usual acrylic paints on an 8x8 inch gallery-wrapped canvas.  The photo that I'm using is seen in the photo directly below.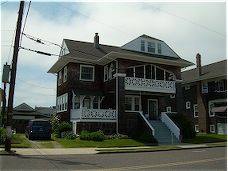 When last seen, the painting appeared as it does in the photo directly below.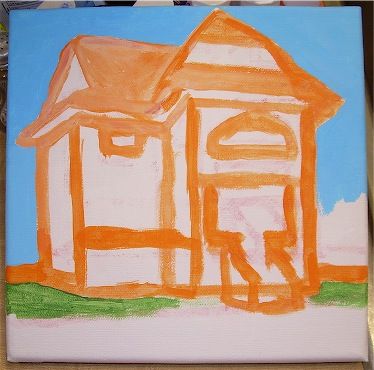 Since that time I have continued to work on the painting.
I've continued with the bright orange paint.  It now covers most of the outer walls.  It will be used to build up a rich color for the shingles.  I will use it to build up a rich color for the shingles in several layers.  The first of these layers is seen where I have added some brown over the orange.  These now brown portions will be shaded areas.  The wall areas that remain orange will be lit and lighter in color.
I've also added some green to the base.  The street will come eventually.
     
The current state of the painting is seen in the photo directly below.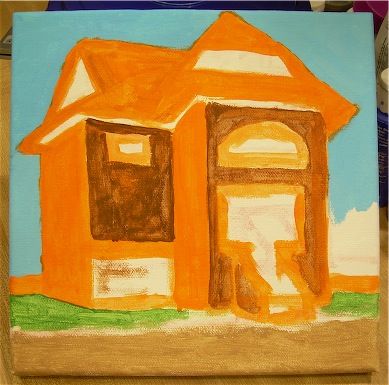 That's about it for now. Next week I'll have an entirely new piece to show you. See you then. As always, feel free to add photos of your own work in the comments section below.
Earlier paintings in this series can be seen here.
Source: www.dailykos.comBridgewater treasure hidden in plain sight for decades - Patriot Ledger
For decades, few noticed the cowboy high above the fireplace in the town office building. The mustachioed man had sat astride his white horse in a wood-framed oil painting for 40 years in the Memorial Building – until 2010, when a visitor asked, "Is that an original Frank Tenney Johnson?"
A year and a half later, the town has an answer – it is one of Johnson's coveted cowboy paintings, still in its original frame, and estimated to be worth $150,000, according to an expert. Maybe more.
The painting had been there since the late 1960s, when a wealthy Bridgewater widow died and left it to the town library, once housed in the building. When a new library was built, the cowboy and his horse were left behind.
It hung in former Town Manager Troy Clarkson's office until someone inquired about its origin.
"I think maybe the reason I never gave it a second thought is it's just some dude sitting on a horse. It's not very exciting," said Clarkson, who now works in Hanover. "But, I'm not an art expert."
Clarkson removed the painting and the town put it in safe keeping. Only a few people, including the chief of police and Clarkson's successor, interim Town Manager Rich Kerbel, know where it is.
Meanwhile, the town has some decisions to make and a few more mysteries to unravel.
Evidence of an original
F. Tenney Johnson, as he signed his name, was at the height of his talents as a painter and illustrator of the American west when he turned out "Trooper on Guard" in 1935, according to Colleene Fesko, an Arlington-based appraiser who frequently appears on PBS' "Antiques Roadshow."
Fesko, asked by The Enterprise to examine the painting, visited Bridgewater and said it is exemplary of the artist's signature style – the Johnson moonlight technique. It is of a man on a white horse under a moonlit sky.
Fesko, who first heard of the Bridgewater painting about three weeks ago from the newspaper, said she was doubtful at first. She drove to town prepared to find a copy – something worth next to nothing.
She was pleasantly surprised to find she was wrong.
Several details immediately jumped out as signs of an original, she said. The F. Tenney Johnson signature on the back of the frame was the first. The second, the size of the painting – 24-by-18 – is typical of Johnson's work. Plus, a stamp on the back of the canvas with the artist's studio address: 22 Champion Place/Alhambra, Calif.
Fesko said Johnson's paintings have sold at auction for $100,000 to $300,000. The painting in Bridgewater is cracked and there is a tiny chip missing from the middle, making it worth about $150,000.
Treasure in plain sight
Clarkson, who left Bridgewater in April after landing a higher-paying job as town manager in Hanover, said he kept quiet about the long-overlooked painting and told only a few others about it because he didn't want to set off another round of political infighting on the Town Council.
"I didn't want it to become the next conflict," he said. "A 5-4 decision about what to do with the painting."
As Clarkson's suspicions grew that the painting was an original, he moved it to a vault at Bridgewater Savings Bank. It has since been moved to an even more secure location, he said.
Even before Fesko estimated how much the painting could fetch, town officials were offering their opinions as to the cowboy's fate.
"I don't think the town should sell it," Police Chief Christopher Delmonte said. I don't care how much it is, and I'm the first to say that we're financially strapped."
The real value of the painting is its place in town history, he said.
Clarkson had several suggestions. The painting could be displayed, possibly in the library, for the public to enjoy.
Or it could be sold, he said. If it is, Clarkson suggested some of the money be spent on making a print of the portrait so that it can be displayed, and the rest to renovate and furnish the town-owned Bridgewater Academy building at 66 Central Square.
Since early May, when the town paid Fesko $300 for a written appraisal of the painting, the matter of who owns it has been resolved. It belongs to the town library.
Now, it's up to Bridgewater Public Library director Sean Daley and the library's board of trustees to decide what to do with it, and how best to display it.
"We would have to lock it up, essentially, until we had the funds to show it," Daley said. "Unfortunately at this moment, we don't have any way to display it."
Fesko hopes Bridgewater's cowboy will go on public display.
"It would be great to have it as part of the legacy of the town," she said. "These were his calling card paintings. These were the ones everyone wanted, even in the '30s. You want people to enjoy it."
Amy Carboneau may be reached at acarboneau@enterprisenews.com, or follow her on Twitter @amycarboneau.
READ MORE about this issue.
Source: www.patriotledger.comFurniture artists create modern twists on wood furnishings - Peoria Journal Star
Industrial designer Robert Hendrick was on a tech career track out of college until two things happened that changed his trajectory.
First, he bought a company that maintains and rebuilds railroad tracks. Then he started spending Saturdays building stuff with his father, Jim.
"I'd always been fascinated by trains and loved the history of how they were so instrumental in the industrialization of America," says Hendrick, of Nashville. "Dad was a construction exec, and the carpentry shop was a weekend diversion. He was always salvaging some interesting artifact from a building that was being torn down. When I saw some of the scrap rails, I realized there might be some beautiful things we could make with them."
The two launched Rail Yard Studios in 2010. Using century-old railroad steel and hardwood timber, they make one-of-a-kind chairs, desks, tables, beds. Some of the rails date back as far as 1898. Each piece is numbered using a salvaged date nail that's been scavenged from the tracks themselves.
Many wood furniture artisans are interested, as the Hendricks are, in honoring the provenance of their material, whether it's repurposed, recycled or just reimagined as something that can be used in the home.
That creative respect makes for some beautiful and intriguing pieces.
Naomi Neilson Howard, founder of the company Native Trails in San Luis Obispo, Calif., uses staves and barrels from nearby wineries to make bathroom vanities for her Vintner's Collection. Her Cabernet model has a deep, warm patina, the result of the oak soaking in red wine for several years. The pieces have an Old World, weathered quality.
This spring, Howard added the Renewal series to her line, a departure from the more rustic pieces. She molds tightly grained, compressed bamboo into contemporary vanities such as the Halcyon, a curvy, wall-mounted piece fashioned from two proprietary varietals, Caramel Bamboo and the darker Woven Strand Bamboo.
Fred Strawser and David Smith have an eponymous Brooklyn shop selling refurbished and repurposed furnishings whose components started life back in Rust Belt factories. With its mix of heartland craftsmanship and modern high style, the shop has attracted the attention of design enthusiasts as far away as Japan.
For examples, a medical cart from late 19th-century Toledo, Ohio, gets a walnut top that used to be a leather worker's work surface, and is ready for action as a hip new desk or console. Industrial-chic side tables are made of thick, lustrously finished slabs of reclaimed wood with wrought-iron, hanging machinist's baskets instead of shelves.
Sarah Reiss is a Dallas-based artist, furniture designer and writer, who found her inner craftsman when buying a fixer-upper. She invested in a jigsaw and some other equipment and built a wall out of interesting reclaimed lengths of wood. The striking result - a colorful, textural geometric piece of art - caught the attention of design bloggers, and her business took off.
"Piecing a wall together is like a long-form improvisation with a permanent outcome. I think that's pretty cool," she says.
Reiss will custom design a wall for you using locally sourced woods such as flooring from old bowling alleys or gymnasiums; shiplap; and barn siding. If you want something smaller, she makes chevron-patterned tables.
---
Sourcebook:
www.etsy.com/shop/randrdesignworks - Sarah Reiss
Source: www.pjstar.com