ArtKos: Saturday Painting Palooza Vol.355 - DAILY KOS
For this week's cycle I will be starting an entirely new painting.  I'm going back to Victorian Cape May in New Jersey.  I'll be painting the late Victorian home seen in the photo directly below.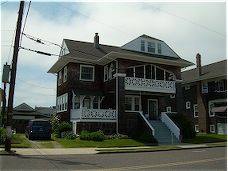 I've had my eye on this one for a long time.  The house to the right, only partially seen, was the subject of an earlier SPP cycle.  This house is similar but with totally different details.  They were obviously built as a pair apparently toward the end of the nineteenth century.  Whle the one to the right has original details, this one may have had some updates.  I'll have to look more closely next time I'm in Cape May.
I started with an outline of the home on an 8x8 inch canvas.  I'm using my usual acrylic paints.  I chose the bright orange seen in the prior cactus painting.  It will work well in the home's shingles.  I painted in the sky just to see the contrast of colors.  Then I painted a bit of the lawn.  I'm pleased so far though the house looks a bit squished at this point.
The current state of the painting is seen in the photo directly below.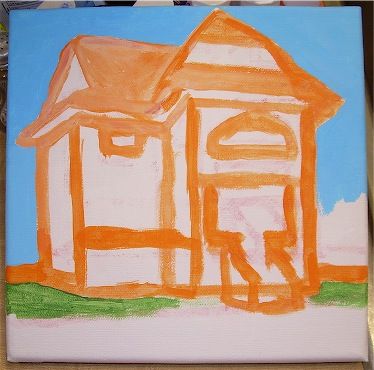 That's about it for now. Next week I'll have an entirely new piece to show you. See you then. As always, feel free to add photos of your own work in the comments section below.
Earlier paintings in this series can be  seen here.
Source: www.dailykos.comBanksy painting replaced by jubilee artwork in Bristol - Bristol Evening Post
A wall previously daubed by graffiti artist Banksy has been re-painted with an image of the Queen as diamond jubilee celebrations take hold of Bristol.
In October last year the popular Banksy work was vandalised in an apparent attack by rivals.
The stencil in Upper Maudlin Street, featuring a boy creeping up behind a sniper with a paper bag in his hands, was covered in black paint and graffiti tags.
Then in February a new stencil appeared showing David Cameron and Boris Johnson as rioters.
Now a black and white image of the Queen has appeared, complete with a blue and red David Bowie-style lightning flash painted across her face.
It is not known who did the painting, or if it has anything to do with urban art festival Upfest, which is also taking place in the city this weekend.
It is the latest artwork to adorn the wall next to Bristol charity the Grand Appeal, which raises money for the Children's Hospital.
In July last year a Banksy mural on the side of a former Eastville social club was painted over during works to turn it into a Muslim cultural centre.
The Gorilla in a Pink Mask in Fishponds Road was painted over by Saeed Ahmed who had never heard of Banksy. It was later restored.
In June 2009 two other popular works in the city were vandalised within hours of each other.
The Mild Mild West mural in Stokes Croft and the Park Street work featuring a naked man hanging from a windowsill, were attacked with a paint-gun. Efforts were made to remove the paint but tell-tale signs remain.
Source: www.thisisbristol.co.uk