California's sparkling beach named America's best - NDTV
Coronado, California: 
Like a Hollywood star, Coronado's 1.5 mile-long beach literally sparkles, thanks to the mineral mica glinting in its sand.
That's one of the reasons why Coronado - flanked by the iconic hotel featured in Marilyn Monroe's 1958 film "Some Like It Hot" - has been named the No 1 beach in the United States in the 2012 survey by "Dr Beach" professor Stephen P Leatherman of Florida International University.
It is the first time "Dr Beach" has given the top slot to California in the more than two decades that he has been ranking beaches in the United States based on their environmental quality and safety for swimmers.
Coronado Beach, on a peninsula across the bay from San Diego, has near-perfect Mediterranean weather and a postcard backdrop.
"I think it's one of the most super beaches around," said Leatherman, director of FIU's Laboratory for Coastal Research.
Rounding out the top 10 this year were No 2, Kahanamoku Beach in Waikiki, Honolulu, Hawaii; No 3, Main Beach, East Hampton, NY; No 4, St George Island State Park, Florida Panhandle; No 5, Hamoa Beach, Maui, Hawaii; No 6, Coast Guard Beach, Cape Cod, Mass.; No 7, Waimanalo Bay Beach Park, Oahu, Hawaii; No 8, Cape Florida State Park near Miami.; No 9, Beachwalker Park, Kiawah Island, South Carolina;  and No 10, Cape Hatteras in North Carolina.
Leatherman ranks beaches on 50 criteria, including the look and feel of the sand, water quality, weather, facilities and crowds. A top score is 250. Coronado came in the 230s, losing points because its water temperature hovering in the 60s allows for only a quick dip for most, Leatherman said. California's chilly coastal waters have cost its pristine beaches points when they've been up against balmy contenders in Florida and Hawaii in the past. Coronado Beach was runner-up last year to Florida's Siesta Beach. Once a beach tops Leatherman's list, it is retired from consideration for future rankings.
A No 1 spot on the popular list typically brings a 15-to-20-percent boost in visitors.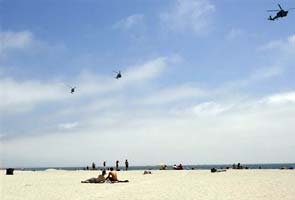 Leatherman said Coronado is great for skim boarding (gliding on the water with a small, finless surfboard) and walking. The wide, flat beach is lined by majestic mansions and the Hotel del Coronado. Known as "Hotel Del," the National Historic Landmark with its peaked red roof was built in 1888 and is the last of California's Victorian seaside resorts.
Coronado is also the name of the swanky-yet-quaint city on a peninsula populated by Navy officers and some of California's wealthiest. It can be reached by ferry boat for a few dollars from downtown San Diego.
There is free parking at the beach but it is on a public street so it can be challenging, Leatherman said.
On a recent spring afternoon, tourists from China to Russia sprawled out on its beach in front of "Hotel Del," lounging on blankets in the sun. A Navy ship dotted the horizon. One man aimed his camera upward, thrilled as the quiet lapping of waves was interrupted with the roar of a Navy jet from a nearby base doing a training exercise.
Lifelong San Diego County resident 55-year-old Nellie Landeros said it is her favourite beach.
"It's gorgeous," she said. "Just the setting alone feels like we're in another world."
Billy Pavlacka, 51, has been visiting Coronado Beach weekly for 30 years. Known as "The Sand Castle Man," Pavlacka was building a towering castle with rows of arches and spheres. He said he spotted an aircraft carrier and submarine earlier that day. Flecks of the glittery mica mineral make the sand shimmer in the sunlight.
"If you look at the sand you can see it sparkling," said a tanned Pavlacka, with gray locks peeking out from under his baseball cap. "People ask me all the time if it's gold."
The top 10 list is in its 22nd year.
Beaches do not pay to be evaluated for the top 10 best beaches list. Leatherman said he visits top 10 candidates incognito to collect sand and water samples for study.
Source: www.ndtv.comUSS Iowa to depart to Southern California on Saturday - Des Moines Register
RICHMOND, Calif. With sea conditions improving along the California coast, the USS Iowa is now scheduled to begin its final voyage on Saturday.
The historic battleship was due to be towed out of Richmond on its way to what will be its new home in Southern California last Sunday, but forecasts of high seas and strong winds held up its departure.
Now with better weather predicted, officials with Pacific Battleship Center, the nonprofit organization group that has been restoring the ship, say the Iowas departure is now set for Saturday morning.
The group says the 887-foot long, 58,000-ton battlewagon is scheduled to leave the Port of Richmond at 11 a.m., with it expected to pass under the Golden Gate Bridge by 3 p.m.
After the Iowa arrives at its final destination at the Port of Los Angeles in San Pedro it will be transformed into an interactive naval museum.
Source: www.desmoinesregister.comCalifornia Horse Racing Board penalizes trainer Doug O'Neill - Boston Herald
LOS ANGELES — The bizarre and complicated world of thoroughbred blood testing and sanctions reached the mainstream Thursday, when the California Horse Racing Board penalized the trainer who has won the first two legs of the sport's Triple Crown.
The seven-person, governor-appointed board, ruling on a case that has been argued and litigated since the summer of 2010, suspended Doug O'Neill for 45 days and fined him $15,000. The penalty actually carried an additional 135 days of suspension, but that will be voided if there are no further findings involving O'Neill in the next 18 months.
O'Neill will not be subject to any penalties until July 1, which is significant because I'll Have Another, who he has trained, will attempt to complete racing's first successful Triple Crown in 34 years when he runs in the Belmont Stakes June 9. I'll Have Another won the Kentucky Derby May 5 and the Preakness last Saturday, and O'Neill will saddle him for the Belmont.
Thursday's action, taken in closed session in a morning meeting at Hollywood Park and rendered on the personable and popular trainer's 44th birthday, will draw unprecedented — and probably unwanted — attention to the sport in the run-up to the dramatic Triple Crown event. O'Neill has repeatedly claimed no wrongdoing, and his supporters have expressed anger and dismay at the substance and timing of the charges. On the other side, animal rights groups and drug-testing hard-liners have been equally vocal.
The ruling resulted from the detection by CHRB testing officials of an elevated level of carbon dioxide in the system of a horse named Argenta, who ran eighth in a race at Del Mar Aug. 25, 2010. The horse was part-owned by Mark Verge, a longtime friend of O'Neill's and currently a top executive at Santa Anita.
Elevated levels of carbon dioxide can be reached in various ways, sometimes naturally, or by administering a combination of baking soda, sugar and water into a horse's system through a hose in the nose. That is called "milkshaking." It is a Class 3 violation.
What may be lost in the rush to make a simple headline out of a complicated story was that the ruling penalizing O'Neill said there was no evidence he intentionally did anything illegal. The second paragraph of the ruling stated:
"The hearing officer (Steffan Imhoff), who conducted a seven-day hearing, agreed with O'Neill that the evidence demonstrated that Argenta had not been milkshaked, so milkshaking was not the cause of the TC02 (total carbon dioxide concentration) overage. He also determined that there were no suspicious betting patterns in the race. He further determined there was no evidence of any intentional acts on the part of O'Neill in connection with this incident."
The basis of the ruling, then, was racing's version of zero tolerance in testing. The original test showed elevated levels of TC02 in Argenta's blood sample, and by racing's rules the trainer is ultimately responsible.
Indeed, sources reported that O'Neill's camp was celebrating the decision Thursday, feeling the report exonerated him. And the July 1 date did not loom particularly large, because O'Neill, who has already spent $250,000 in litigating the case, is likely to carry on in that vein. That could delay any punishment for years if the ruling is upheld.
With O'Neill and I'll Have Another at the center of the Triple Crown drama, the issue of the CHRB's timing on this has been much discussed. Board rules dictate action be taken within 30 days of the report, so having the O'Neill item on the agenda apparently was required.
Not clear was whether or not the entire thing could have been tabled until after the Belmont. One legal source told the Los Angeles Times that his reading of the rules allowed for that.
There was also speculation that the board members, fully aware of the hit they would take in the racing community chose to act because doing nothing and appearing to shovel it under the rug would have created more negative speculation. By releasing the ruling now, with the wording of the report favorable to him in part, O'Neill could be characterized not as a cheater, but as a victim of technicalities.
———
Visit the Los Angeles Times at www.latimes.com
Source: bostonherald.com