South Africa deal not to show 'rude' Jacob Zuma painting - BBC News
30 May 2012
Last updated at
05:38 ET
A South African art gallery has agreed not to display a controversial painting of President Jacob Zuma with his genitals exposed after reaching a deal with the ANC.
The painting has sparked fierce debate about the balance between freedom of expression and the right to dignity.
Hundreds of ANC supporters protested outside the gallery on Tuesday.
The painting, The Spear, was defaced last week. It will also be removed from the Goodman Gallery's website.
Under the deal, the ANC has agreed to drop its legal action demanding that the gallery remove the painting from its exhibition and the website.
The red, yellow and black acrylic painting showing Mr Zuma echoing Soviet images of Lenin was taken down after it was covered in red and black paint.
On Monday, South Africa's City Press newspaper said it was removing the image of the painting from its website following threats by the ANC.
In a joint news conference, ANC spokesman Jackson Mthembu said: "Maybe we should not have gone to through lawyers, we should have talked directly."
Goodman Gallery director Liza Essers said: "I believe in the right to freedom of expression and the South African constitution."
"Brett [Murray, the artist] is very saddened by the hurt that the painting has caused," she said.
The ruling party said the painting was "rude, crude and disrespectful" towards President Zuma and wants all images of the painting online and elsewhere taken down.
In an affidavit served on the City Press newspaper, Mr Zuma said: "The portrait depicts me in a manner that suggests I am a philanderer, a womaniser and one with no respect."
President Zuma, who has four wives, has previously sued local media companies 11 times for defamation.
Source: www.bbc.co.ukPainting teams will turn shabby homes into jewels - Tacoma News Tribune
Today we have one challenge, one happy update and one ending to a gun dispute.
Painting season's just a few dry days away, and Paint Tacoma-Pierce Beautiful is gathering teams to transform shabby homes into jewels.
Now in its 28th year, the Associated Ministries program has painted 2,031 homes.
That history of beautification is not just about the transformative power of exterior latex. It's about standards and attitude: Pretty neighborhoods where residents know each other give criminals the feeling that they're being watched.
Last year, crews repainted 41 homes for senior and disabled people living on low incomes.
This year, they have 153 applications from Tacoma, Bonney Lake, Buckley, Edgewood, Fircrest, Gig Harbor, Graham, Key Peninsula, Lakewood, Milton, Puyallup, Roy, Spanaway, Parkland, Sumner and University Place.
How many they paint is up to us.
"As many teams as we can muster is the number of houses we can do," said director Greg Newkirk.
Individual volunteers and small groups are welcome.
Newkirk and his deputies have checked out every house and will winnow entries to the 80 most in need of work.
Already, they're inviting back prior volunteers, but they need scores more to hit 80 homes.
Newkirk, who volunteered 17 years before he accepted the director's job last year, is a pro at the hard sell and the heart sell.
"We maintain affordable housing. We eliminate blight in our neighborhoods," he said. "We bring together a sense of community, and most importantly we lift the spirits of those cherished members of our community who really need assistance."
Teams commit to finish the work on a house – a job that averages about 160 work hours and takes at least two work parties. Team leaders take a training session, meet with a technical adviser and set up work days with the homeowner.
Teams get paint, caulk and technical advice. They round up most of their tools, from rollers to scrapers to ladders. If no one on their team owns a pressure washer, they cozy up to someone who does.
This year, they're gathering gardening tools, too. "We have yard cleanup opportunities that are new to the program," Newkirk said.
For that, they're looking for topsoil, wood chips, plants and landscaping pros, along with their usual painting supplies and ladder jockeys.
Interested? Visit www.paintbeautiful.org. Call 253-426-1505 or assistant Jean Kampen at 253-383-3056, ext. 142, to reserve a place at one of three evening training sessions in June.
Catholic Community Services leaders are thrilled at the speed with which plans for a $13.3 million homeless services center made the short list for funding.
In March, I wrote how local advocates for the chronically homeless were planning to build a much-needed central place for services by 2015, but that the transition period could get rough.
Now they say the new Nativity House will be finished in mid-2014.
That has brought a sigh of relief to the Hilltop, where Tacoma Avenue Shelter and Hospitality Kitchen won't have to spend three to five years combined or relocated to make way for the new building at South Yakima Avenue and 14th Street.
"We are moving much more quickly than originally planned," said Jim Anderson, co-director of CCS's Homeless Adult Services. "We are not going to be combining the Kitchen and Nativity House, or moving the shelter."
The new Nativity House will combine the kitchen, drop-in center, shelter beds, services and 50 small apartments. CCS is raising additional funds and working with architects and engineers so construction can begin next summer.
Finally, the 253-in-a-gun design that angered many fans of the 253 heart is on its own.
Steve Naccarato had started taking orders for items bearing the firearm logo on the website of his business, Republic of 253. The marketing backfired with a clientele hurt by what looked like a reference to Tacoma's worst gang days.
"At this point I think Ro253 is going in a different direction," Naccarato said Tuesday.
Those who still want the gun design can buy it directly from the artist, Jesse Arneson.
Republic of 253 continues to carry Arneson's other designs, including a native salmon that has gotten tasty reviews from Republic of 253's virtual visitors.
kathleen.merryman @thenewstribune.com 253-597-8677
blog.thenewstribune.com/street
Source: www.thenewstribune.comPainting the town red, white and blue - ITV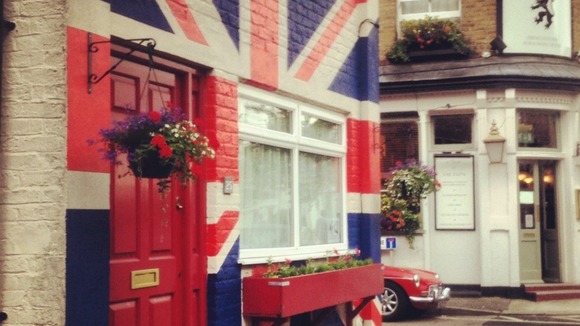 The Diamond Jubilee weekend is almost upon us and one can't help noticing the amazing number of union flags and bunting adorning the capital. You can't move in the West End now without hearing the flutter of red, white and blue but, away from London's centre, plenty of communities are getting ready to party too.
The most patriotic scene I've come across so far is of a house in Teddington in South West London where, last weekend, the owners decided it was the perfect time to redecorate. Forget the whitewash though, this was a much more challenging project. Using gaffa tape to ensure the lines of St George, St Andrew and St Patrick were perfect, the front of this suburban terrace was soon transformed into a striking union flag.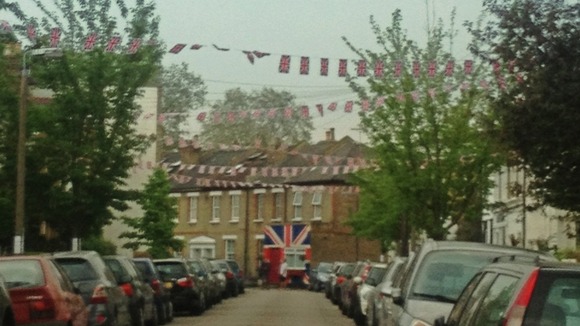 The house isn't far from where I live so, when I heard about it, I couldn't resist popping by this week. There I met owner Vivienne Tate, who explained the patriotic gesture.
"The front of the house really needed decorating," she said, "so we thought we'd do it for the Jubilee and the Olympics... it also means it'll make us redecorate it properly when it's all over!"
The "Union Jack House" - as it's now being referred to - is on just one of the many roads in the capital where residents are planning to hold street parties over the long weekend. The London Borough of Richmond Upon Thames says it's in the running for the most street parties in London, having received 175 requests for street closures - more than double the number held for the Royal Wedding last year.
It's going to be a fabulous four days and the atmosphere is already buzzing. Enjoy!
Source: www.itv.com