California Workers Get Pay Bump Even as Brown Seeks Cuts - Businessweek
As California Governor Jerry Brown seeks a temporary 5 percent pay cut from public employees to fill the largest state deficit in the U.S., many of those same workers are poised for raises next year.
Labor contracts covering 140,000 workers grant increases of about 3 percent to top earners beginning in July 2013, according to the Personnel Administration Department. About 34,000 employees became eligible this year as the raises began to be incorporated.
Brown, facing a $15.7 billion deficit through June 2013, is seeking savings in a state where unionized public employees are paid more than government workers in other states, and civil- service protections hamper dismissals. The 74-year-old Democrat wants to save $400 million by shortening the work week by two hours. That will require approval from unions representing 182,000 of the state's 214,000 workers.
"This just highlights the fact that government works really well for public-employee unions, but really does not work for anybody else," said Aaron McLear, the former spokesman for Brown's predecessor, Republican Arnold Schwarzenegger, who clashed with labor leaders over costs. "I get that they are under contract, but the idea that labor unions get to negotiate their cuts is stunning."
During collective bargaining in 2010, Schwarzenegger agreed to raises of 2 percent to 5 percent for workers at the top of the pay scale. In return, union members contributed more toward their pension and retirement benefits, and gave up some paid holidays.
Unpaid Furloughs
The agreement came after Schwarzenegger and lawmakers had forced workers to take unpaid days off each month for two years, cutting pay by about 14 percent.
The contracts cover all unionized workers, from janitors to highway patrol officers. While Schwarzenegger signed many of the deals, Brown came to the same terms with prison guards in 2011.
Not every state worker can get the July pay increase, only those at the top of the pay scale for at least 12 months, with satisfactory evaluations. While there's no estimate of how many that will be, it typically takes five years to reach top scale, according to Lynelle Jolley, a spokeswoman for the Personnel Administration.
Leaders of Service Employees International Union Local 1000, which represents the largest number of state employees at 95,000, are willing to talk about pay cuts or an alternative, according to a letter addressed to members earlier this month.
'Staying Engaged'
"We could have said 'no,' and demanded that the governor honor our contract," said the letter, signed by nine bargaining unit leaders. "By staying engaged, we minimize the potential for a huge number of layoffs and even deeper cuts in vital services."
California, with the world's ninth-biggest economy, lost more than 1 million jobs in the recession that started in 2007, reducing the most populous U.S. state's revenue by 24 percent. Even with savings from program reductions, that left a deficit of $9.2 billion, the governor said in January.
Brown is pushing a ballot measure asking voters to temporarily raise the statewide sales tax to 7.5 percent from 7.25 percent, and boost rates on income taxes starting at $250,000.
Brown's proposed budget includes a mechanism that would automatically trigger more than $6 billion in additional reductions, mostly from schools, if voters reject the tax increase.
Even if those cuts occur, state workers would still get their pay increase.
New Cuts
On May 14, the governor was forced to propose a new round of spending rollbacks after acknowledging the revenue projection he built into his January budget was off by more than $4 billion. To fill the gap, he wants to cut more than $3 billion from medical care for the poor, welfare, in-home services for the disabled, and childcare subsidies.
The governor also said he'd seek to reduce employee costs 5 percent by having them work 9.5 hours on four days instead of 8 hours in five days. His proposal would cut $840 million from payroll costs, with $400 million of that coming in the deficit- ridden general fund.
The average Golden State worker receives about $1 more for every $4 earned by a Texas employee, according to U.S. Commerce Department data. Per-capita income for all employees in California, public and private, was $42,578 last year, the department said. State workers, on average, made $58,340 in total pay, according to data from the controller's office.
Limited Options
Brown's options are limited. If unions balk at his proposal, he could fire state workers, though civil-service rules would require a dozen months or more to see any savings.
He could furlough workers as Schwarzenegger did, but that could end up costing more in future years, as workers in agencies that can't shut down, such as prisons and the highway patrol, accumulate vacation and unpaid leave.
"The state employees particularly have come forward with some very imaginative ideas," the governor told reporters in Sacramento when he unveiled his revised budget. "They've been willing to step up to the plate."
To contact the reporter on this story: Michael B. Marois in Sacramento at mmarois@bloomberg.net;
To contact the editor responsible for this story: Stephen Merelman at smerelman@bloomberg.net
Source: www.businessweek.comCalifornia Politics Could Use Some Pirates - NBC Bay Area
Question: what could be the next big thing in California politics?
Possible answer: Arrrrrrrrrrrrrrrrrrgh.
That's right. We've got Pirates.
Real pirates.
The Pirate Party recently filed paperwork with the office of Secretary of State Debra Bowen to begin the process of becoming an official California political party, with its own ballot line.
The Pirate Party is from Europe, but this is not a joke.
It's a real party, formed in Scandinavia just six years ago. Its wide-ranging platform focuses on freedom of information (the pirates attracted to this party often have been digital ones) but also includes an emphasis on health care access and other issues, marrying values we think of both as lefty and libertarian.
Doesn't that sound pretty Californian to you? Me too.
It's not inconceivable the party could make some gains, though our not-very-democratic election system, with winner-take-all legislative seats and the top-two primary, is stacked against small, fledgling parties.
If anyone can beat the established system, it would be Pirates.
The party is now the fastest-growing political party in the world. It has a presence in more than 50 countries, and is already recognized in four U.S. states.
It's also been winning legislative seats in European countries (with particular strength in Germany), and in the European parliament itself.
Welcome, mates. 
Lead Prop Zero blogger Je Mathews is California editor at Zocalo Public Square, a fellow at Arizona State University's Center for Social Cohesion, and co-author of California Crackup: How Reform Broke the Golden State and How We Can Fix It (University of California, 2010).
Send us your thoughts via Twitter @PropZero or add your comment to our Facebook page.
Source: www.nbcbayarea.comBanksy Artwork Of A Crane Discovered In Dorset - huffingtonpost.co.uk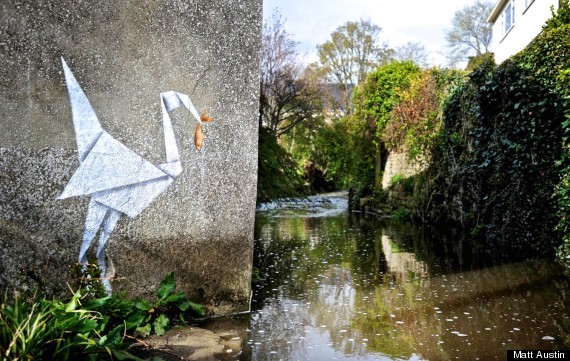 The Banksy crane: not your typical street art

Never let it be said that Banksy doesn't experiment. The street art king's latest piece is an origami crane painted on a wall in a sleepy coastal down in Dorset.
No, we wouldn't have believed it either, but the creation has appeared on his official website - the stamp of authenticity Banksy fans wait for whenever a new stencil appears.
The crane, which holds a goldfish in its mouth, was spotted on the side of a building on a country path next to the River Lym in Lyme Regis.
Aside from the unusually rural setting, the crane contains none of the wry social or political undertones that characterizes most of Banksy's work, including his other most recent piece, the sweatshop worker child making bunting on the side of a London Poundland.
See also:

All of which leads us to wonder: is this Banksy turning over a new leaf as an artist?
The crane is a bird with a rich history of symbolism around the world, not least of all in the home of origami.
Japanese folklore believes the crane lives for 1,000 year and is a symbol of happiness, good luck and peace.
Perhaps, then, it's a simply an expression of pastoral joy, a love letter to the British countryside. Maybe, just maybe, Banksy is turning from political satire to a form of street art romanticism.
Will Ellsworth-Jones, author of the new Banksy biography The Man Behind the Wall, told HuffPost UK that he didn't know what to make of the meaning behind the crane, but described it as an unusual and highly accomplished piece.
"It's actually a very difficult stencil to do. Look at the way it's been designed to reflect in the water," he said.
"A lot of thought gone into it. It just goes to show what a master of the stencil Banksy is."
Either way, his efforts will be welcomed by the people of Lyme Regis. New artworks by Banksy have been known to raise house prices, not to mention give the local tourist industry a welcome boost.
Do you have any ideas about the meaning of the origami crane? Give us your views below.
The Oscars refused to let Banksy come incognito to the ceremony in which his documentary Entry Through the Gift Shop was nominated because it was too much of a security risk.

Banksy says "I am unable to comment on who may or may not be Banksy, but anyone described as being 'good at drawing' doesn't sound like Banksy to me"

It's said that his agent isn't even quite sure of his identity

Celebrity owners of his art include Christina Aguilera and Angelina Jolie

One of the first conventional exhibitions of his art was held in a warehouse in 2000, but Banksy gave out only the street number for the building and not the street.

In September of 2006, Banksy inserted 500 fake CDs into the sleeves of Paris Hilton's debut release, at music retailers in several U.K. cities. Buyers bought his remixes of Hilton's songs, which were tagged with new titles, including - "Why Am I Famous?".

It is said his parents believe he is a painter and decorator rather than a successful artist.

The son of a photocopier engineer, he might have trained as a butcher but became involved in graffiti during the Bristol aerosol boom of the late 1980s.

In support of a Bristol anti Tesco demonstration he released a print which showed a smoking petrol bomb in a Tesco Value bottle

In August 2004, Banksy produced spoof British £10 notes changing the picture of the Queen to one of Diana, Princess of Wales's head and changing the text to 'Banksy of England'
Source: www.huffingtonpost.co.ukCalifornia 9/11 fund raided to plug deficits, finance other programs - FOX News
SACRAMENTO, Calif. –  After the 2001 terrorist attacks, California lawmakers sought a way to channel the patriotic fervor and use it to help victims' families and law enforcement. Their answer: specialty memorial license plates emblazoned with the words, "We Will Never Forget." 
Part of the money raised through the sale of the plates was to fund scholarships for the children of California residents who perished in the attacks, while the majority -- 85 percent -- was to help fund anti-terrorism efforts. 
But an Associated Press review of the $15 million collected since lawmakers approved the "California Memorial Scholarship Program" shows only a small fraction of the money went to scholarships. While 40 percent has funded anti-terror training programs, $3 million was raided by Gov. Jerry Brown and his predecessor, Arnold Schwarzenegger, to plug the state's budget deficit. 
Millions more have been spent on budget items with little relation to direct threats of terrorism, including livestock diseases and workplace safety. 
Moreover, the California Department of Motor Vehicles has been advertising the plates as helping the children of Sept. 11 victims even though the state stopped funding the scholarship program seven years ago. The specialty plate fund continues to take in $1.5 million a year. 
Californians who lost loved ones in the attacks take the raid on the license plate fund as an affront to the memory of those who died. 
"I can't believe that they would do that," said Candice Hoglan, who lives in the San Francisco Bay Area and bought a plate to commemorate her nephew, Mark Bingham. "We're paying extra for the plate; we're making a point, and it means a lot to us." 
Bingham was killed on United Airlines Flight 93, which crashed in Pennsylvania, and was one of the passengers who led the attempt to wrest control from the hijackers. His mother, Alice Hoagland, also was troubled by the program's apparent drift from its original purpose. 
"I'm sorry that as we retreat in time from 9/11, we seem to be retreating in our resolve never to forget," she said in a telephone interview. 
The plates, which cost an initial $50 plus a $40 annual renewal fee, feature an American flag partially obscured by clouds and the "never forget" slogan. Residents of California, where all four jetliners were bound when they were hijacked, have bought or renewed the plates more than 200,000 times since 2002. 
Of the other states directly associated with the 2001 attacks, only Virginia has established a similar specialty plate program. Yet it did not set up a special fund for the proceeds of its "Fight Terrorism" plate. 
For the past decade, the California DMV has said on its website that the money will "fund scholarships for the children of Californians who died in the September 11, 2001, terror attacks and helps California's law enforcement fight threats of terrorism." It advertises the program with the slogan, "Be a patriot." 
While the DMV description of the program was not "totally disingenuous," the department should probably remove references to the scholarship program, said Joe DeAnda, a spokesman for the state treasurer's office, which disburses the money. 
"It's out of date and it's on DMV to update that," he said. 
Late Friday, the department modified the description of the license plate on its website to remove the reference to the scholarship program in response to the investigation by the AP, which began in March. Spokeswoman Jan Mendoza said the reason promotional materials were not updated sooner was "unknown." 
The DMV still lists the scholarship program on the online and hardcopy form drivers fill out to buy the license plates, but Mendoza said the department will change this next time the forms are printed. 
The legislation establishing the plates had earmarked 15 percent of the revenue for scholarships. 
Yet only $21,381 has reached the children and spouses of the three dozen California residents killed during the terrorist attacks. The state treasurer's office closed the scholarship program in 2005, the sign-up deadline for potential recipients, and has $60,000 in reserve. 
The total amount dedicated to scholarships was 1.5 percent of the $5.5 million raised through the sale of the plates through 2005. 
The original legislation said the remainder of the money would go to "law enforcement, fire protection, and public health agencies" to be used "exclusively for purposes directly related to fighting terrorism." 
But in 2008, former Gov. Arnold Schwarzenegger, a Republican, borrowed $2 million to close a budget gap. Last year, Brown, a Democrat, borrowed another $1 million. 
Neither loan has been repaid nor are their deadlines to ensure they will be. Elizabeth Ashford, a spokeswoman for Brown, said the loans have done no harm. 
"We're trying to simultaneously balance the budget and fund important programs," she said. "If there was an indication that borrowing this money was going to negatively impact this program, we wouldn't borrow the money." 
The rest of the monee reading "WE R 4US," said she signed up for the program primarily to show respect for victims of the 9/11 attacks. Anderson said she was disheartened but not surprised to learn that much of the money has gone to fill the state deficit or used for general purposes. 
"That's California," said Anderson, who now lives near Austin, Texas. "It's kind of a given these days -- nothing is spent on what it's supposed to be."
Source: www.foxnews.comCalifornia Service Members' Delayed Absentee Ballots Will Count - KQED
California state elections officials have reached an agreement with the U.S. Department of Justice over problems with getting military service members their absentee ballots in time for this year's primary election on June 5th.
The problem has been gettting the ballots to service members and their families before the window for sending those ballots closed. The deal requires approval by a federal court in Sacramento before taking effect.
The settlement requires the counties involved to take extra steps and make sure the affected voters get their ballots back on time: even paying for express delivery at the counties' expense, if necessary.
Four counties, including San Francisco and San Mateo Counties, must offer express delivery under the terms of the settlement. In other cases, voters will be notified by e-mail, by fax or with a phone call that they will be able to get their ballots back in time to be counted, including faxing them back if necessary.
In addition, the settlement requires California's Secretary of State's Office, which oversees elections, to report back on the outcome of these reforms by July 13th, and to set up better procedures to make sure it won't happen again. State and federal officials would confer on the progress of these reforms on December 1st of 2012, 2013 and 2014.
The DOJ complaint accused California of violating the Uniformed and Overseas Citizens Absentee Voting Act, or UOCAVA. That law requires states to send ballots no later than 45 days before a federal election. According to DOJ's complaint 8,249 ballots were sent after that deadline, mostly within two days. Eleven California counties sent ballots late, including Contra Costa, San Francisco and San Mateo Counties. The complaint says that San Francisco sent hundreds of ballots two and four days after the deadline.
UOCAVA also requires elections offices to send ballots to service members by e-mail or regular mail, whichever they prefer. The federal complaint accuses at least 11 counties, including Contra Costa and Sonoma Counties, of failing to ensure this happens. Contra Costa County, for example, sent nearly 1,500 late ballots to applicants for whom it had an e-mail address, then resent all the ballots by each voter's preferred method.
DOJ says the counties went back and corrected this error after the California Secretary of State's Office, which oversees elections, contacted them.
Source: www.kqed.orgCalifornia family recovering after plane crash - 9News
SACRAMENTO - A California firefighter, his wife and youngest daughter are all recovering in a Boise hospital after their small plane crashed in Idaho.
Wilton Fire Department Captain Brian Brown reported the crash at 12:08 a.m Sunday after their Cessna 172 slammed into a mountainside.
Brown was flying the plane with his wife, Jayann, and adult daughter, Heather, on board.
Brown's family was heading to Mountain Home, Idaho, to visit his oldest daughter when the plane went down.
Rescuers located the plane Sunday morning after hiking through 6-foot snow drifts, according to the Owyhee County Sheriff's Department.
They used the signal from the family's cellphone along with an emergency beacon on the plane to locate the victims.
Rescue efforts were delayed by a snow storm that forced a medical helicopter out of the area.
The National Guard was better equipped for the foul conditions and was able to retrieve all of the passengers by 2 p.m. Sunday, according to the Sheriff's Department.
Brown, his wife, and daughter are being treated at Saint Alphonsus Regional Medical Center in Boise for head and back injuries.
Source: www.9news.com